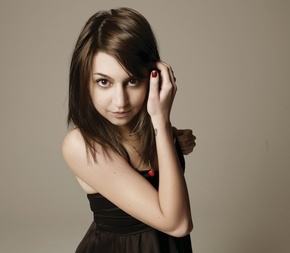 Skope is excited to tell you about a developing artist, Charlotte Sometimes, who is about to head out on tour with Eric Hutchinson.  
She has been VH1's "You Oughta Know Artist," in which they featured her video for the single, "How I Could Just Kill A Man." Charlotte was also on Warped Tour this summer, winning over fans, one performance at a time.
She is now heading out on tour with Eric Hutchinson and continues to build up her fan base and get her music out with her kick ass live performances.
"How I Could Just Kill A Man":
November, 7 2008 09:00 PM – High Dive  
513 N 36th, Seattle, Washington 98101
November, 8 2008 09:00 PM – Berbati's Pan
231 SW Ankeny, Portland, Oregon 97204
November, 9 2008 08:00 PM – The Plaza Club
881 Granville St, Vancouver, British Columbia V6Z 1K7
November, 10 2008 08:00 PM – The Knitting Factory
919 W. Sprague St., Spokane, Washington 99201
November, 11 2008 07:30 PM – The Venue
521 Broad Street, Boise, Idaho 83702
November, 13 2008 08:00 PM – Bluebird Theatre
3319 E Colfax Ave., Denver, Colorado 80206
November, 14 2008 06:00 PM – Aggie Theatre
204 S. College Ave., Fort Collins, Colorado 80524
November, 15 2008 09:00 PM – Knickerbockers
901 "O" St., Lincoln, Nebraska 68508
November, 16 2008 06:00 PM – Varsity Theater
1308 4th Street, Minneapolis, Minnesota 55414
November, 17 2008 08:00 PM – People's Court- Des Moines
216 Court Ave., Des Moines, Iowa 50309
November, 18 2008 09:00 PM – Double Door
1573 N. Milwaukee Ave. 425, Chicago, Illinois 60622
November, 21 2008 08:00 PM – The Eagle Theatre
15 S. Saginaw, Pontiac, Michigan 48342
November, 22 2008 05:30 PM – The Madhatter
620 Scott St., Covington, Kentucky 41011
November, 23 2008 07:00 PM – 3rd & Lindsley
818 Third Ave., Nashville, Tennessee 37210
November, 24 2008 09:00 PM – Duck Room
6504 Del Mar St., St. Louis, Missouri 63130
November, 25 2008 07:30 PM – The Basement
391 Neil Avenue, Columbus, Ohio 43215
November, 26 2008 08:30 PM – The Music Mill
3720 East 82nd Street, Indianapolis, Indiana 46240
November, 28 2008 08:30 PM – Beachland & Ballroom Tavern
15711 Waterloo Rd, Cleveland, Ohio 44110
November, 29 2008 07:00 PM – Diesel
1601 E. Carson Street, Pittsburgh, Pennsylvania 15203
November, 30 2008 07:30 PM – Mohawk Place
47 East Mohawk Street, Buffalo, New York 14207
December, 2 2008 08:00 PM – Les Saints
30 St. Catherines, West Montreal, Quebec H2X 3V4
December, 3 2008 08:00 PM – El Mocambo
464 Spadina Avenue, Toronto, Ontario M5T 2G8
December, 4 2008 08:00 PM – Revolution Hall
425 River Street, Troy, New York 12180
December, 5 2008 07:00 PM – The Station, ME.
272 St. Johns St., Portland, Maine
December, 6 2008 08:00 PM – Webster Underground
31 Webster St., Hartford, Connecticut 06114
December, 7 2008 07:30 PM – Middle East Downstairs
480 Massachusetts Ave., Cambridge, Massachusetts 02139
December, 9 2008 08:00 PM – 8×10
810 East Cross St., Baltimore, Maryland 21231
December, 10 2008 07:30 PM – Birchmere
3701 Mt. Vernon Ave., Alexandria, Virginia 22305
December, 13 2008 08:00 PM – The Bowery Ballroom
6 Delancey St., New York, New York 10002
December, 14 2008 07:30 PM – North Star Bar
2639 W. Poplar St., Philadelphia, Pennsylvania 19130