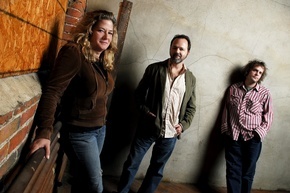 Seven years ago, Blue Mountain seemed to be in a healthy place. The band had gone through hell and come out swinging with Roots, an album of traditional country and blues covers, lovingly delivered by true fans of the music.
It appeared Blue Mountain had survived the divorce of its leaders, singer/guitarist/songwriter Cary Hudson and bass player/singer Laurie Stirratt. They had survived the shift of their label, Roadrunner Records, to a decidedly metal bent. And they had survived an industry-wide alt.country massacre that left a lot of bands homeless, with no label or radio support. And it seemed they did so happily.
Then they called it quits.
According to Hudson, he and Stirratt just needed some time away to rebuild their friendship. They had been bandmates for 12 years, and married for six before the divorce in 2000, and it was just time. "I think a lot of bands hit that point," says Hudson. "Anybody that spends that much time together, and I don't think it really matters if you're childhood friends like Mick [Jagger] and Keith [Richards], or if you're brothers like the Kinks or the Oasis guys or Marah, or whoever, or whether you were married. I think once you've been together that much, after a while you just need a break."
Now Blue Mountain is back touring in support of two albums — Midnight in Mississippi, a somewhat mellow album of new material, and Omnibus, a kind of "greatest hits" album with all-new version of songs like "Soul Sister" and "Generic America." For the record, the band never officially broke up. "You know, I'm not the kind of person that makes a lot of plans for the future, but I had never shut the door to doing it in my mind," says Hudson. "I had always thought in the back of my head I hope we can do this again. And it turned out we did."
The first official gig of the reformed Blue Mountain was at last June's Twangfest in St. Louis. Hudson said the gig was surprisingly easy and fun, and led to more gig offers. Everything just flowed naturally from there. Longtime fans are coming to see them on tour, and Hudson has even noticed some new faces. "It's not just the old people who used to come see us seven, ten years ago," he says, "it's people who have heard about the band and they're interested, and they're younger, in their 20s. That's really great and it also makes you think, we need to keep doing this and see what happens, you know?"      
Other than rereleasing Roots, which should happen sometime next year, Hudson's not sure what's in store for Blue Mountain. But he will say that he and Stirratt are having fun playing and harmonizing together. "I think we both hope that we can keep doing this," he says. "We won't probably won't put as much time into it as we did before, but I think we're both really enjoying it. We're back to being friends."
Words By: Nick A. Zaino III
Photos By: Bill Ellison & Brad Hodge