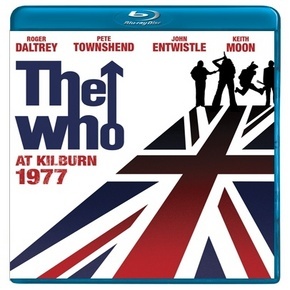 The long awaited The Who: At Kilburn: 1977 will be available on DVD & Blu-Ray from Image Entertainment on November 18th. The landmark performance is finally being released from the vault and showcases the band with all its original members in top form performing many of their biggest hits.
Link To Streaming Trailer – Windows Media:
One of the greatest rock bands of all time, The Who defined modern music for the past four decades. Now after years of anticipation, some of their most unforgettable moments can finally be experienced with THE WHO: AT KILBURN: 1977, releasing on a two-disc DVD and single-disc Blu-Ray set November 18 from Image Entertainment.
Newly mastered in high-definition with state-of-the-art sound for a spectacular home theater experience, the December 15, 1977 Kilburn show at the Gaumont State Theater in North London was recorded before a select audience for Jeff Stein's hit film about The Who, The Kids Are Alright, but only a few brief selections of what would prove to be legendary drummer KEITH MOON's public swan song were ever seen in the finished feature. Captured on 35mm with six cameras and a 16-track audio recorder, the complete Kilburn show features Moon and the rest of the band's classic line-up — singer ROGER DALTREY, guitarist/singer PETE TOWNSEND, and bassist JOHN ENTWISTLE–in top form with many of their biggest hits.