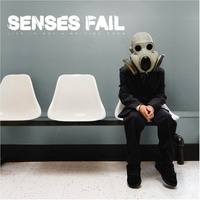 First thing I noticed was the man dressed all in black sitting in a white chair with a gas mask on his head.   I was thinking who is this man under the mask, not Jim Carrey I'm sure, and wondering what the hell this was all about.   So, based on the album cover Senses Fail definitely got my attention right from the start.
Backed by James "Buddy" Nielson–vocals, Garrett Zablocki–Guitar, Heath Saraceno–Guitar, Dan Trapp–Drums and Jason Black–Bass makes up the New Jersey-based band known as Senses Fail.   SF came up with a perfect name for the band as senses do seem to fail you when listening to Life Is Not A Waiting Room.   By that, I mean your sense of listening is distorted because of the diverse styles SF is bringin'.   First off, I was hearing a pop/rock sound that seemed to have that radio-friendly tone.   Also had that side of heavy metal with its dark, lyrical undertones and Nielson's monstrous screams and face-melting shrieks.  
This record is made up of gut-busting tracks straight from the heart and every single emotion is expressed to the max on this one.   Much of the album is devoted to the recent break-up of Nielson's girlfriend, while the rest is catered around a hope for a substantial change in life.   Senses Fail seem to bring it all together melodically, as a band, with major intensity and seem to have come Full Circle on Life Is Not A Waiting Room.
"Yellow Angels" and "Four Years" were two of my favorite songs on the record and turns out two of the most touching cuts on the album.   The repeated chant of "WAKE UP…YOU'RE SLEEPING BEHIND THE WHEEL" was so damn contagious that I caught myself singing the words under my breath all day long!—Doin' it right now man!   The songs are inspired by a fan of SF as he later became very close with singer, James Nielson.   This passionate and strong young man, known as Marcel, tragically lost his life to cancer.   It was a "life-changing experience" for Nielson and this young man's spirit lives on in a huge way on "Yellow Angels" and "Four Years".   Touching story without question and Senses Fail were able to catch that whole feel and emotion behind Marcel's courageous life story.   Simply Amazing Stuff!  
Senses Fail are currently on tour and may be coming to a city near you, so SKOPE it out.   Worth noting that "Wolves At The Door" is featured on the soundtrack to a video game you might have heard of–Madden NFL '09.   For more on SF, check out www.vagrant.com, www.sensesfail.com and www.myspace.com/sensesfail.
By Jimmy Rae
[Rating: 4/5]