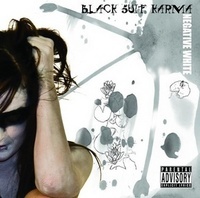 You pick up this CD and the first thing you see is a woman tugging on her hair with growths on her lips and black covering over part of her face.   Disturbing imagery for sure and makes you wonder what the hell you're about to get into.   I've learned not to judge a book by its cover right away, so then let's dive right into Black Suit's Karma Negative White.  
Black Suit Karma is made up of lead singer–Norman Wilkerson, guitarist–Tommy Johnson, bassist–Rus and drummer–Jeremy Parker.   This Arkansas-based metal quartet offers a hauntingly, scary sound that is on the verge of death metal.   Wilkerson's vocals can be described as a groveling, menacing and grimacing voice that screams angst.   The nightmarish sound matches well with the devilishly, evil laughs at the end of "Omega Horse" [Shadows May Come].
Thinking back to the days of David Bowie and how he revolutionized the "Glam Rock" scene made me think of another movement–"Gloom Rock".   BSK's Negative White would definitely fit the bill for a quintessential "Gloom Rock" band with its very dark lyrics and haunting melodies and rhythms.   Gloominess is mixed well with hard, hittin' and balls to the wall metal on this record.   On "Lovers or Leaches?", Wilkerson spews out: "I DON'T GIVE A FUCK ABOUT YOU!!" and sums up the feel of the track and overall tone of the album.
Interesting tidbit about the name of the band and that is Wilkerson actually came up with Black Suit Karma after attending the funeral of a family member.   He noticed everyone wearing black suits and thought that attending more funerals made a person think twice about how much time he or she has on this earth.   It's a very depressing and dismal outlook, but you know what–that's the backbone of BSK and its music.   All members are being true to themselves and to their trade by bringing Heavy-Metal "Gloom Rock" to the forefront.
For more on Black Suit Karma and their new album, Negative White, SKOPE out www.blacksuitkarma.com.   Final note on this record is how well the entire band seems to mesh together as musicians.   Seems that all the musical pieces of the puzzle are in just the right place for Black Suit Karma.
By Jimmy Rae
[Rating: 3/5]