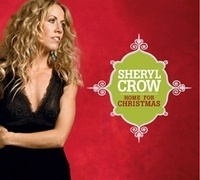 I have to admit that I haven't been excited about new Christmas offerings (especially in September), after previously hearing everything from James Brown to Johnny Mathis, to Nat King Cole, to Bob Rivers, and to quote Quint (Robert Shaw) from Jaws, "And everything in between!"   Note: I have to admit though, that the past two seasons, Hall & Oates release and re-release was great and didn't disappoint.  
First, I wondered what Go Tell It On The Mountain was doing on here.   I guess I never paid attention to the lyrics being of seasonal spiritual significance.   She gets a pass on this one.   The Christmas Song has a progressive jazz type beat, okay for use by a female singer, competing against the realms of traditionally dominant male smoky throated vocalists like Mel Torme and Nat King Cole that came before. The disc is laden with 20's-40's movie-like big band/jazz soundstage backdrops.   White Christmas and I'll Be Home For Christmas get the full Roaring 20's Speakeasy club torch-singer treatment.   Merry Christmas Baby has a real Tyrone Davis funky feel, which kind of translates to a way Southside Johnny or Springsteen (and the Big Man in a red suit with a sax) would treat it.   Blue Christmas also has the Asbury Park vibe going on.  
To tell you the truth, I expected a country styled presentation of the songs, instead of the laid back Rita Haworth "Gilda" inspired treatment (Her pic on the cover sleeve even has a similar black sleek dress).   The disc is a good easy listening, watching the logs in the fireplace compliment.   Sheryl of course, does a good job with everything she works on, this being no exception.   I was pleased to listen to the same traditional songs done in this fashion.  
Words By: RME
[Rating: 4/5]