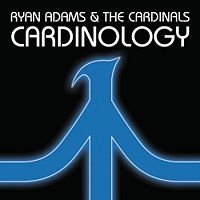 Ryan Adams, the prolific singer-songwriter, has many things working against him nowadays. First off, his biggest fans adore his earliest work most–stuff that has included his time with the influential alt-country band Whiskeytown and also his critically lauded solo discs Heartbreaker and Gold.
Secondly, in many circles, Adams is more known for his past eccentric behavior which has included substance abuse problems and a few schizophrenic performances at concerts.
Unfortunately, all of the above mentioned issues have overshadowed Adams' fine work with his criminally underrated backing band, The Cardinals, the past couple of years.
So, will that happen again with the newly released Cardinology? Will Adams' latest get overlooked by the public once again? If there is any justice in this world, the simple answer is no because Cardinology is one great record with numerous highs and relatively few lows.
Cardinology starts off in fine fashion with the opening track "Born Into A Light." The acoustic guitar-flavored song is one of Adams' most positive in his catalogue, at least lyricwise. "For everyone alone I wish you faith and hope/And all the strength to cope/To be your own best friend/Have confidence and keep the faith," Adams sings halfway through the song in his signature fine voice.
Next up is "Go Easy" which employs some polished piano and impressive backing vocals yet it still rocks just enough thanks to its dual electric guitars. The end result is Adams doing what he does best–writing good love songs, whether they are sad or optimistic.
Speaking of rocking, there is one flat-out fist pumper on Cardinology and it is called "Magick." The lyrics aren't up to Adams' fine standards on this one but the loud guitars are a welcome diversion from the mostly quieter, slower tempo songs that dominate the recording.
Right after "Magick" comes arguably Cardinology's finest moments. "Cobwebs" sounds like the hit off the CD with its memorable chorus while "Let Us Down Easy" is a rewarding track with Adams' pleas put in a religious context.
Words By: Todd Sikorski
[Rating: 4/5]