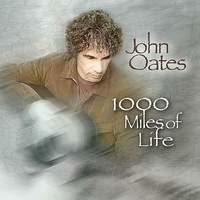 Along with being a genuinely great guy and an all around talented musician, John Oates can add modesty to his list of virtues.   John once told me that he considered himself lucky as "I'm probably the highest paid background singer and rhythm guitar player there is".   What he neglected to acknowledge is that he's also been an integral writing and performing component of the best selling duo in history.   This release is stacked with great musicians including another all-around great talented guy, H&O bassist T-Bone Wolk.  
The title track laced with Steve Cropper guitar work is a soul-based catchy song worthy of a single release.   The Good Son is a Tom Petty style tune that adds a blast of the good old H&O production values.   Ghost Town is a bluesy offering, complete with eerie Jed Leiber Hammond organ, cool John Popper harp, and great Bela Fleck guitar-like banjo work, lending a totally New Orleans feel.  
Sending Me Angels is a good soul reaching gospel-influenced ballad.   Ravens is just a really nice flowing ballad, as is the closing track Circle Of Three.   Carved In Stone is a rocking gospel sound song worthy of contemporary Christian/country singer Russ Taff, complete with the answering vocals of Bonnie and Bekka Bramlett.  
When John steps on his own exposing his solo voice, what he dishes out is really damn good and soulful.   JO also has the range to basically do any material well.   Yes, John is one of those dudes that could have done fine on his own, but fortunately found the right talented accomplice/cohort to successfully complement his talents to hit their collective stride.   A complement to the song selection on this release is that the material is fresh sounding, and some of these songs could be successful and relevant releases today by artists like Coldplay and Maroon 5.
The final word (words) is, really, really good.   Well-done John!  
Words By: RME
[Rating: 4.5/5]