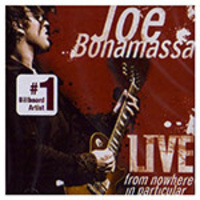 All right, what can I say about Joe that isn't obvious.   What can you say about a guy that has hit the 30-year milestone, and has been playing professionally (amazingly I might add) for at least 2/3 of that?   I caught him most recently at the House of Blues in Cleveland (for the umpteenth time), and although it seems like   he tours around 300 days a year, it keeps getting better and he still gives you a powerhouse performance every time out.     Oh, by the way, in his spare time, he teaches kids about the blues and blues/rock.   The new double-disk release features 14 of Joe's live killers, featuring his touring lineup of Carmine Rojas on bass, Rick Melick on keys, and Bogie Bowles on drums.   The tunes were recorded live (of course) during the #1 Billboard and blues charts artist's fall 2007 tour.
The opener Bridge To Better Days is a classic original that sounds like one of the tunes other blues guys try to cover.   Mountain Time written by Joe and Steve Winwood (and a host of others) collaborator Will Jennings is a great soulful piece, perfect for Joe's ballsy voice.   The covers of Sloe Gin, Warren Haynes's If Heartaches Were Nickels, John Mayall's Another Kind Of Love, and Chris Whitley's Ball Peen Hammer give the feeling that this is what the writers intended the songs to sound like when they wrote them.   Django/Just Got Paid is a great classic bluesy guitar interlude moving into the classic ZZ Top song, with a touch of Frampton. Zeppelin, and some added fancy fretwork thrown in for good measure.   A New Day Yesterday/Starship Trooper/Wurm pays homage with a unique spin, in a down and dirty true blues fashion to Jethro Tull and Yes.  
If you listen to this release, you'll definitely mark the calendar to catch Joe live.   He's the real deal, the fingers, the voice, the technique, the total package.   It's blues, it's rock, and it's high-level performance.   The best news is that he's always playing somewhere, and favors the small intimate clubs to getting added to an arena bill.   One of my longtime favorites in the biz, this set gives me an emergency shot of Joe when I need to be inspired to pick up the axe.   For you Sirius listeners, they have a regular spot "Daily Cup Of Joe" with JB as the celeb DJ.  
Words By RME
[Rating 5/5]