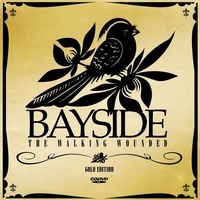 This ain't your older brother's Emo!   These guys have talent.   Bayside releases 'The Walking Wounded' Gold Edition CD/DVD combo on Victory Records.   It's an Emo extravaganza.
The title track 'The Walking Wounded' leads off the album flashing Bayside's ability to break out of the usual Emo mold into some horns, and a guitar solo that might even make Dimebag Darrell nod his head in appreciation [R.I.P. Dimebag].   It doesn't stop there, from 'There Not Horses, Their Unicorns' through 'Carry On'… and many other songs; there is an underlay of pretty heavy music to go with the Emo vocals and the rest of the standard music you would expect to find in this genre.
The DVD includes a 40-minute documentary of life on the road with Bayside.   You'll get a good laugh as they calculate how much beer they will drink on a month long tour.   You'll get the inside scoop as they give a little insight into each band member.     They even find time to hit a golf course for a couple holes.   The DVD also includes the music videos for the songs 'Duality' and Carry On', as well as a live acoustic set recorded at Looney Tunes in NY.
If you are in the mood for some Emo, get yourself a copy of 'The Walking Wounded', and look for Bayside touring the United States, England, and Australia now through March 2009.
Reviewed by: Gary Jacobs
[Rating: 4/5]