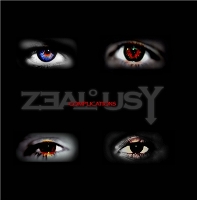 Return of the rock opera.   The follow up to their 2007 EP 'Girl on the Edge', Female fronted, L.A. indie band Zealousy releases their first full length offering 'Complications'.
Leading off with 'Girl on the Edge'… through 'Wanting', and 'Wrong Man'…'Complications' conjures images of the old rock operas to weave its way through some interesting tales of a lady's experiences.     A little Pink Floyd, A little The Who, brought to you with a female voice from a female perspective.   There was a song or two off that kilter, but the rest make you forgive her for that.
From politics to performers, look out for the ladies rising up to take their place in the world.   Amarie Darvai is certainly leading Zealousy in the right direction.     An epic voice backed up by solid instrumentation makes for a foundation that Zealousy seems to be taking advantage of.   Honorable mention from the Billboard World Song Contest, a showcase at the Hollywood Music Awards, and some great gigs at legendary Los Angeles venues all have Zealousy gearing up to go big.   With the right producer, this band can go big, very big.  
Apparently they even add some extra keyboards and violin during live performances.   That sounds like ear candy. "I Find Myself Left a Little Wanting", wanting some record label to sign Zealousy, get them a top notch producer to polish them up a bit, and make this band famous.  
Words By: Gary Jacobs
[Rating: 4/5]