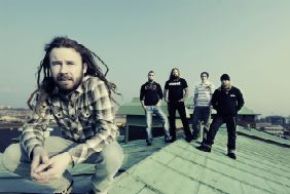 Highly influential Swedish metal band IN FLAMES have released a limited edition EP featuring the roll out single "The Mirror's Truth" off the quintet's critically-acclaimed full length release, A Sense of Purpose.   Also included on the EP are the previously unreleased tracks "Eraser," "Tilt" and "Abnegation."
IN FLAMES are one of the pioneers of what has become known as "the Gothenburg sound" (also referred to as "melodic death metal") and have influenced scores of metal/hard rock acts since their formation in 1990.   The band has won three Swedish Grammis Awards (equivalent to Grammy Awards) and shifted nearly 2,000,000 albums over the course
of their distinguished career.
DOWNLOAD "Tilt" from IN FLAMES':
 
SKOPE IT HERE!
View the new video for "Alias,":
IN FLAMES ON TOUR!   "A Sense of Purpose" Fall 2008 North American dates:
(With support from All That Remains, Gojira and 36 Crazyfists)
November 6     Montreal, QC @ Metropolis All ages / $34.50 ADV / $40 DOS
November 7     Toronto, ON @ Sound Academy All ages / $35 ADV / $41.25 DOS
November 8     Detroit, MI @ Emerald Theater All ages / $22 ADV / $25 DOS
November 9     Cleveland, OH @ Agora Theatre All ages / $20 ADV / $25 DOS
November 10   Chicago, IL @ House Of Blues All ages / $22 ADV / $25 DOS
November 12   Minneapolis, MN @ Myth All ages / $22.50 ADV / $25 DOS
November 14   Calgary, AB @ MacEwan Hall Ballroom All ages / $31 ADV / $34 DOS
November 15   Edmonton, AB @ Events Center All ages / $31 ADV / $34 DOS
November 17   Vancouver, BC @ Commodore Ballroom 19+ / $40 ADV / $40 DOS
November 18   Seattle, WA @ Showbox Sodo All ages / $20 ADV / $23 DOS
November 19   Portland, OR @ Roseland All ages / $23.50 ADV / $25 DOS
November 21   San Francisco, CA @ Warfield All ages / $22 ADV / $25 DOS
November 22   Los Angeles, CA @ Club Nokia LA Live All ages / $25 ADV / $28.50 DOS
November 23   Las Vegas, NV @ House Of Blues All ages / $22.50 ADV / $25 DOS
November 24   Phoenix, AZ @ Marquee Theatre All ages / $25 ADV / $30 DOS
November 25   Albuquerque, NM @ Midnight Rodeo All ages / $25 ADV / $28 DOS
November 26   Denver, CO @ The Fillmore Auditorium 16+ / $20 ADV / $23 DOS
November 28   Dallas, TX @ The Palladium Ballroom All ages / $20 ADV / $23 DOS
November 29   Austin, TX @ La Zona Rosa All ages / $23.50 ADV / $26 DOS
November 30   Houston, TX @ House Of Blues All ages / $22 ADV / $25 DOS
December 2     Orlando, FL @ Hard Rock Live All ages / $20 ADV / $23 DOS
December 3     Atlanta, GA @ Tabernacle All ages / $22 ADV / $25 DOS
December 4     Norfolk, VA @ The Norva All ages / $20 ADV / $23 DOS
December 5     Baltimore, MD @ Ram's Head Live All ages / $22 ADV / $25 DOS
December 6     Worcester, MA @ The Palladium All ages / $22 ADV / $25 DOS
December 7     New York, NY @ Terminal 5 16+ / $25 ADV / $28 DOS
December 9     St. Louis, MO @ The Pageant All ages / $22 ADV / $25 DOS
December 10   Milwaukee, WI @ The Eagles Club All ages / $19.50 ADV / $22 DOS