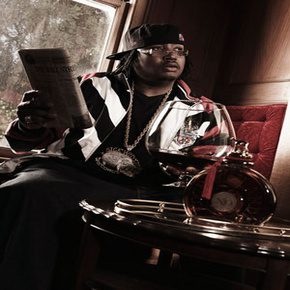 He's a rap innovator, a business-savvy tycoon and one of the music industry's most consistent success stories.
Yes, E-40 is all those things, but he's probably best known as a slang creator, a man whose distinctive gift of gab gets lifted and used in the rhymes of Jay-Z, Snoop Dogg and others. Now, the man with the terrific tongue returns with his most polished product to date, the imaginatively titled The Ball Street Journal." Anything that rolls off the tongue slick and is catchy, that's where it's at," E-40 explains.
Who better to explain the brand new single from The Ball Street Journal than E-40 himself?
Check out this vid where 40 Water breaks down how to moves that make up Shawty Lo's Break Ya Ankles dance:
[youtube O8LUHC4yxj4 nolink]
"Break Ya Ankles" Featuring Shawty Lo & Diamond REMIX: