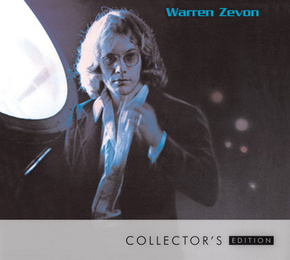 Warren Zevon moved to Spain in the summer of 1975, dropping out of the music business after nearly a decade. During his self-imposed exile, he performed regularly at the Dubliner, a colorful bar owned by a former mercenary who helped Zevon pen the classic "Roland The Headless Thompson Gunner."
Zevon's luck changed when his friend Jackson Browne contacted him about a recording deal. He signed with Asylum Records in 1975 and began recording his major-label debut, WARREN ZEVON. Today, many consider his self-titled album a high water mark not only for Zevon, but for the decade as well. Rhino will reissue a Collector's Edition of WARREN ZEVON that includes the original album remastered, along with a bonus disc filled entirely with unreleased demos and alternate versions of album tracks. The two-CD set will be available November 11 from all retail outlets, including www.rhino.com, for a suggested list price of $24.98 (CD) and $13.99 (digital).
Jackson Browne produced the album and also enlisted some of the West Coast's biggest names to help out, including members of the Eagles, Fleetwood Mac, David Lindley and J.D. Souther. Providing Zevon with an outlet for his pent-up creativity, he unleashed a barrage of sharply observed songs that pulse with dark wit and sophisticated melodies. Many of his best-known tracks are included here, such as "Hasten Down The Wind," "Poor Pitiful Me," "Carmelita" and "Mohammed's Radio" – all of which were later covered by Linda Ronstadt. The album also contains "I'll Sleep When I'm Dead," "Frank And Jesse James" and "Desperados Under The Eaves," a song Zevon wrote about staying at the Hollywood Hawaiian Motel with no way to pay his bill.
WARREN ZEVON LISTENING PARTY – WMA:
Warren Zevon w/ Jackson Browne 'Mohammed's Radio' (Dec 1976):
                                     
[youtube 44Rwu5yPUrc nolink]