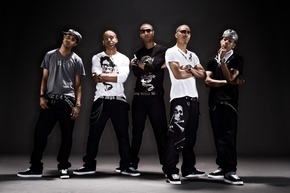 Their self-titled debut out 12/23 will be supported with a 6 episode reality show on BET entitled, Brothers to Brutha, which begins on Tuesday, November 18th – just after the season premiere of Keyshia Cole: The Way It Is, the highest rated show on the network!As the only R&BG group on the Def Jam Roster, their 5 part blended harmony is such a refreshing sound amidst the current R&B landscape.
Love of family and music. Those are the energizing forces behind Island Def Jam/Goodfellas Entertainment latest R&B discovery, Brutha.
"I Can't Hear the Music" Featuring Fabolous:
Powered by a strong family bond, these five brothers resurrect the goose bump-raising harmonies and thrilling showmanship that were the hallmarks of groups like the Jackson 5, New Edition and Boyz II Men. However, Brutha represents more than just a contemporary facsimile of these popular icons.
Equally talented, the Harrell brothers–Anthony, Jared, Jacob, Cheyenne and Grady– couple crystal-clear, five-part harmony with high-energy dance moves and a genuine exuberance for their craft.
In short, Brutha is the real deal: bringing back the magical group dynamic sorely missing in today's music. In fact, Brutha's natural ability not only netted a recording contract with Island Def Jam/Goodfellas Entertainment but also an upcoming BET reality show, "Brother to Brutha," premiering Nov. 18.
Recorded primarily in Atlanta, the group's self-titled album will be released Dec. 23. Collaborating with the soulful quintet was a who's who in songwriting and producing, including Jazze Pha, Shae Taylor, the Corna Boyz, the Heavyweights, Rodney Jerkins and 112 founding member Daron Jones.