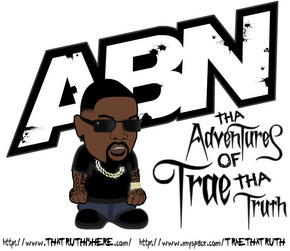 Fans of Trae tha Truth's music are used to his gritty, in-your-face chronicles of life in the streets from listening to his many albums and mixtapes.
Now, they can see some of those tales unfold, in animated style, on Trae's own website and social networking area www.thatruthishere.com, as well as on YouTube.
ABN: Trae Tha Truth Promo
[youtube tAWVfpfvn84 nolink]
Pairing up with animator Jay S. (Jay Sugarman), whose Lil Hop cartoons have caused quite a stir in the rap world as artists check to see who his next subjects will be, Trae will debut the first episode of his new cartoon series, The Adventures of Trae tha Truth, on his site, alongside the drop of his upcoming mixtape Streets Advocate, on November 11th. The tape will be available in all national chains on December 9th.
For Jay S., the cartoonist responsible for the Lil Hop cartoon series, which includes Welcome to the South, California Love, Forbes 1-2-3 Billion Dollar Cartoon and There Can Only Be One in addition to the upcoming The Adventures of Trae tha Truth, no one is sacred and Trae joins an elite list of artists Jay has caricatured such as Jay-Z, Beyonce, 50 Cent, Lil Wayne, Tupac, T.I., Too Short, Dre, Snoop Dogg, Chamillionaire, Eazy-E, Jeezy and Pimp C, who passed before Jay was able to complete Welcome to the South.