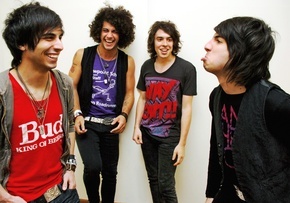 Universal Republic Records is proud to present new artist Cash Cash and their digital only self titled EP which you can purchase at iTunes — look for their full length debut early next year.    
Cash Cash is an exciting techno-pop group who is able to seamlessly tap into 70s funk, 80s anthem pop and 90s mellow alternative all at once.   The band will be on tour throughout October and November.
"Party In Your Bedroom" streaming audio:
Oklahoma with a crowd of kids singing our song," says Jean Paul Makhlouf, lead singer of Cash Cash, in awe over the popularity they have received on their current tour. "It's a feeling you can't describe." Not a small accomplishment for "this little band from Jersey." In fact, this is exactly the type of moment that occurs when you are a hot band on the rise.
Cash Cash is an exciting techno-pop group from the 2 mile long town of Roseland, New Jersey. The band consists of Jean Paul Makhlouf (vocals, guitar), Alex Makhlouf (keyboards, programming), Samuel Frisch (vocals, bass), and Anthony Villacari (drums, percussion). With a sound that is refreshing, electric and infectious, Cash Cash is able to seamlessly tap into 70s funk, 80s anthem pop and 90s mellow alternative all at once. Their mission, described perfectly by Jean Paul, is to "Bring back some of that 70s funk guitar, mixed in with the life and fun of the 80s."
Tour Dates
10/24 – House Of Blues w/ Metro Station & Tyga – Chicago, Illinois
10/25 – Clutch Cargo's w/ Metro Station & Tyga – Pontiac, Michigan
10/26 – Kool Haus w/ Metro Station & Tyga – Toronto, Ontario
10/28 – Showcase Live w/ Metro Station & Tyga – Foxborough, Massachusetts
10/29 — Nokia Theatre w/ Metro Station & Tyga – New York, New York
10/30 – Starland Ballroom w/ Metro Station & Tyga – Sayreville, New Jersey
10/31 – Sonar w/ Metro Station & Tyga – Baltimore, Maryland
11/2 – The Electric Factory w/ Metro Station & Tyga – Philadelphia, Pennsylvania
11/4 – House Of Blues w/ Metro Station & Tyga – North Myrtle Beach, South Carolina
11/5 – Plush w/ Metro Station & Tyga – Jacksonville, Florida
11/6 – Jannus Landing w/ Metro Station & Tyga – Saint Petersburg, Florida
11/7 – Revolution w/ Metro Station & Tyga – Ft. Lauderdale, Florida
11/8 – House Of Blues w/ Metro Station & Tyga – Lake Buena Vista, Florida
11/9 – The Masquerade w/ Metro Station & Tyga – Atlanta, Georgia
11/11 – House Of Blues Houston w/ Metro Station & Tyga – Houston, Texas
11/12 — House Of Blues Dallas w/ Metro Station & Tyga – Dallas, Texas
11/13 – La Zona Rosa w/ Metro Station & Tyga – Austin, Texas
11/14 – Cain's Ballroom w/ Metro Station & Tyga – Tulsa, Oklahoma
11/15 – Sokol Underground w/ Metro Station & Tyga – Omaha, Nebraska
11/16 – Gothic Theatre w/ Metro Station & Tyga – Englewood, Colorado
11/18 – In The Venue w/ Metro Station & Tyga – Salt Lake City, Utah
11/20 – Showbox w/ Metro Station & Tyga – Seattle, Washington
11/21 – Roseland Theater w/ Metro Station & Tyga – Portland, Oregon
11/22 – The Warfield w/ Metro Station & Tyga – San Francisco, California
11/23 – Senator Theatre w/ Metro Station & Tyga – Chico, California
11/25 – Rialto Theatre w/ Metro Station & Tyga – Tucson, Arizona
11/26 – Soma w/ Metro Station & Tyga – San Diego, California
11/28 – Club Nokia LA w/ Metro Station & Tyga – Los Angeles, California
11/29 – The Grove of Anaheim w/ Metro Station & Tyga – Anaheim, California
12/19 – The Chance Complex – Poughkeepsie, New York