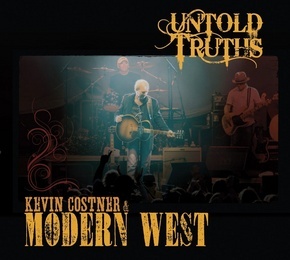 Universal Republic/Universal Records South will release the debut album from Kevin Costner & Modern West, titled Untold Truths, on November 11.
Though best known for his acting career, Costner is no stranger to the art of making music and songwriting. The band's history goes back some 20 years when Kevin first met band mate John Coinman in Los Angeles during an acting workshop. The two began playing and writing music together and soon after started a band called "Roving Boy." As Kevin's star began to rise, he was unable to devote much time to the band. However, he and some of the band members continued behind-the-scenes playing, writing, and recording anytime they could throughout the years.
A few years back the itch became stronger for Costner to start performing on a more regular basis. Costner recalls a performance back in August 2005 and remarks, "I remember looking out into the crowd, thinking 'this just feels right'." And with that, his passion continued to grow with the end product of that passion being the debut album, Untold Truths.
Kevin Costner and Modern West – "Long Hot Night" (WindowsMedia):