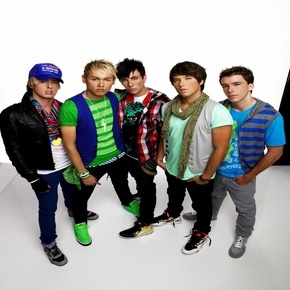 VARSITY FANCLUB have already captured a place alongside Miley Cyrus and the Jonas Brothers on AOL Music's Kids Pop channel and Radio Disney with their debut single "Future Love."
Now pop's hottest newcomers are gearing up to stake their claim in boy band history with their self-titled debut album, due for release from Stonehall Records/Capitol Records on January 13th, 2009.
Varsity Fanclub is an irresistible collection of urban-influenced rhythmic groove and R&B-styled pop balladry crafted by such leading songwriters and producers as Ryan Tedder (One Republic, Leona Lewis), Evan Bogart (Rihanna), and Diane Warren (Whitney Houston, Celine Dion). Tedder and Bogart co-wrote the melodic and unabashedly romantic "Future Love," which, after becoming the No. 5 most-requested song on Radio Disney within three weeks, is now making a splash at Top 40 radio. The video for "Future Love," which premiered on MySpace on October 15th, has been chosen as a "Favorite" by Miley Cyrus and her best friend Mandy Jiroux (who stars in the video) on their YouTube page. After being posted to Capitol Music Group's YouTube Channel on October 16th, "Future Love" racked up nearly 300,000 views within 24 hours, leading the label's channel to become the No. 1 Most Viewed Musician page and the No. 12 Most Viewed page overall for the day.
Varsity Fanclub – Future Love: