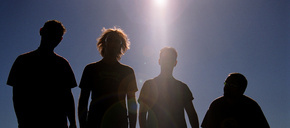 The New York City based progressive groove machine known as U-Melt has announced their twelve state fall 2008 tour that will take them from the east coast, to the Rocky Mountains and back again — all before Thanksgiving.
The nineteen-show trek, kicking off October 3rd at the Highline Ballroom in New York City, will feature familiar stops in familiar cities, as the dynamic quartet closes out the year. And of course, what U-Melt fall tour would be complete without one of their legendary Halloween performances?
Boasting a reputation as one of the hardest working bands in the business, U-Melt showcases their diligent work ethic through their musical chops. Blazing guitar runs, precise rhythms, punchy bass lines and mind-bending keys comprise the trademark U-Melt sound, as the band manages to raise the bar night in and night out. With a penchant for taking listeners on a musical journey through time and space, the four piece provides an aural experience unlike any other. U-Melt blends elements of rock, jazz, trance and funk and fuses them into a musical state of mind.
"415" MP3:
"Air" MP3:
FALL TOUR DATES:
10/31 — The Westcott Theater — Syracuse, NY
11/01 — Nietzche's — Buffalo, NY
11/06 — The Main Pub — Manchester, CT
11/07 — Bill's Bar — Boston, MA
11/08 — Revolution Hall — Troy, NYl
11/13 — Higher Ground (Showcase Lounge) — Burlington, VT
11/14 — St. Lawrence University — Canton, NY
11/15 —The North Star — Philadelphia, PA