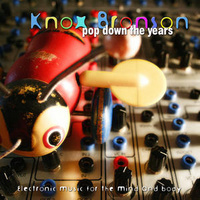 Considering his affection for pop electronica with a definite 70s flavor and his wavering near-baritone, it would be surprising if Knox Bronson didn't have several well-worn copies of Brian Eno's Here Come the Warm Jets and David Bowie's Heroes somewhere in his possession. He shares Bowie's inventive phrasing and Eno's appreciation for conceptual soundscapes. But Bronson also borrows heavily from the wonking synths and insistent bass drums of 80s and 90s dance music, more in league with Bowie's experiments from that era. And he's not shy about his inspirations.  
The fact that Bronson's influences are all over the map doesn't detract from his overall style. It makes for a pleasantly eclectic mix of music, ranging from instrumental electronica ("The Quark and the Jaguar") to a straight up acoustic, one-voice-one-guitar cover of Donovan's "Celeste." "Bordertown" is a pastiche of sounds — half-spoken verses a la the Pet Shop Boys, a chorus straight from Bowie, and even some flourishes of classical composition. Give Bronson credit for his willingness to explore and to risk alienating a few listeners along the way.
Bronson occasionally wanders into territory best left unexplored. His vocoder-laden Beach Boys' anthem, "Hey Little Earthgirl" sounds like the soundtrack to an educational filmstrip about industry (for those of you old enough to remember seeing those things in grade school). And there's a reason the Adam Sandleresque (I know, there's something inherently wrong in coining that term) lyrics are obscured — "Hey little earthgirl, electronic, where I'm taking you is supersonic." The storyline of the meditative tone poem "Old Man Cold Man" can be inscrutable, which is the price you pay sometimes for writing something more evocative than narrative.            
Bronson intends the album to be a tribute to an era when music was about hope, but Pop Down the Years is more a contemplative and rueful love letter to a lost sweetheart than a nostalgic celebration.
Words By: Nick A. Zaino III