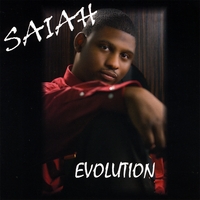 Isaiah Seward is a young rapper/producer who came up with a new album that offers 14 tracks of honesty.   Saiah is his rap alias and he is a 26-year-old man who is extremely driven about what is important to him.   REAL issues and REAL lyrics is what Saiah is all about and Evolution sums this up.   The title of the album is how Saiah feels where he is now as a person and as an artist; the evolution begins.
I would label this album as Motivational Rap to get jiggy with because I feel it gives listeners a positive message and can influence them to do the right thing.   The record also offers a cool-as-ice rhyme flow mixed in with clubbin' hooks and funky, fresh beatz.   So, blend together the fun vibin', party-like atmosphere with direct and powerful lyrics and you get Evolution.  
Track 5, "Down That Road" really hit a chord with me because of the major issues that he tackles on this cut.   Saiah raps about everything from racism to even overweight children lacking exercise and hooked on video games.   It is all TRUTH, which I'm feelin' and Saiah wants everyone to REALLY LISTEN close.   "Got love for all my sisters and brothers, not just of my color," Saiah wisely said on one of his tracks. I think it's great that this cat originally from Richmond, Virginia wants to make noise in a positive way–need more like him.
The last joint on the record, "21 Gun Salute" had sounds of a gun shot but in this sense it was nothing negative.   Saiah said it best during the song when he rapped, "Thank God Mom didn't raise me to be a thug, life's too short to catch a slug."   This one lyric should be heard loud around the hip-hop world because of the ongoing violence in the rap game.   With the help of Saiah and others, maybe the madness on the streets and on records can end soon.
With slammin' beats and fresh rhymes that will make you stop and think, Evolution is an album to hear.   And Saiah is an artist to watch out for with his cool vibe and powerful punch to our reality.   I think Isaiah Seward connected with an upper-cut on this one and hopefully with enough determination can provide a knockout in the end.   Definitely SKOPE out Saiah's Evolution as it definitely deserves a listen.  
By Jimmy Rae
[Rating: 4/5]