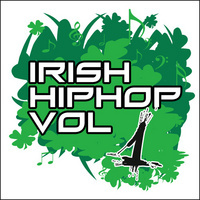 Time to get out the KISS ME I'M IRISH stickers because Ireland has something else to be proud of now and that's hip-hop.   I hate stereotypes and the people that supposedly love green so much definitely have their fair share; brawlin' fighters and obscene drinkers just to name a few. So, an Irish Hip-Hop Movement could definitely solidify a positive and innovative stereotype for these people.   Why Not?   I say.
Irish Hip-Hop, Volume 1 offers 20 tracks of Celtic Rap and is all possible by MC Ammunition.   Ireland's culture is well-represented by all of the proud-to-be Irish artists on this record and that is the main message here.   Ammunition, along with the other musicians, just wants one thing: Get their voice, culture and style heard by the 80 million world-wide that claim an Irish heritage.  
This album offers very cool tracks with tight beats, catchy hooks and smooth-flowin' rhymes.   These funky lads are bringin' heat and it's not from the East-Side, West-Side or Dirty South.   That's what makes this record so special because when you think hip-hop and rap–Ireland doesn't come to mind.   Irish Hip-Hop, Volume 1 is about to change all that if Ammunition and the rest of the bunch can help its cause.  
There is an abundant amount of energy being brought to the table on many of the tracks along with very cool vibes and even club-like sounds.   These Irish folk aren't kiddin' around with this one–claim to be all REAL and RELEVANT minus all FOOLISHNESS and FAKENESS.   On track 12, "Contact" by Jee4ce, is by far the most aggressive, in-your-face rhyme aiming its artillery at FAKE rappers.   Speaking of those just worried about the bling and the booty–Jee4ce is spittin' REAL and bringin' it Irish-style.  
DJ Mek's short, "Interlude" shows off fresh DJ'ing skills by choppin' it up on the turntable–it's scratch-tastic man!   Another fine DJ can be heard on track 8, "Stop Fantasizin" and he goes by DJ Flip Mix.   Rob Kelly said it best on "Take A Look" when he spilled the lyric: "We don't pull guns, just bruise knuckles".   Irish Hip-Hop, Volume 1–Take One and probably many more to come.   It's new, it's fresh, it's original and most importantly it's authentic, so get ready people!  
I do have to say it was a little weird at first to hear the Irish accents to rap schemes and hip-hop beats, but you know what it worked.   This album and more importantly this new movement will be an acquired taste, but one that should be widely-recognized and a force to be reckoned with.   It's not just about traditional Irish dance and bagpipes anymore–the Irish culture now has a new voice.   For more exciting info on this new craze, SKOPE out www.celtichiphop.net.  
By Jimmy Rae
[Rating: 3/5]