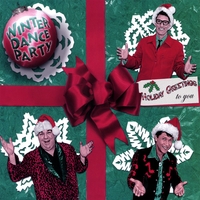 Saying anything bad about Winter Dance Party's Holiday Greetings to You would be like kicking a big, happy dog in the teeth. For one thing, it's a Christmas album, and Christmas albums are meant to be tossed on the background while people are talking and drinking and having a good time. You're not supposed to listen too closely. And that helps the central conceit of Holiday Greetings tremendously — three guys with a fondness for 50s rock playing a slate of Christmas classics like "Let It Snow" and "Silent Night" as if they were Buddy Holly, Ritchie Valens, and J.P. "The Big Bopper" Richardson. None of the 50s rockers appear on the album, although they are on the cover. So be aware that those three Skopes above are graded on a curve.
Given the concept, there were bound to be a few hits and a few misses. The Buddy Hollified version of "Little Drummer Boy" with jarring, intermittent riffs from "Not Fade Away" is a force fit. And the "Big Bopper" monologue in "Frosty the Snowman" sounds like grandpa after a few too many nips of eggnog after Christmas dinner
The material works far better when they abandon the impersonations and just interpret the songs in a 50s style. WDP give a fairly straight reading of "The Christmas Song," with a warm and cheesy sax accent, and they stick to Chuck Berry's script for "Run Run Rudolph."   The Ventures-like take on "Sleigh Ride" and the lose country feel of "Santa Looks A Lot Like Daddy" are exactly what they should be — fun and familiar, played by people who appreciate the nuances of those particular sounds. You could do a lot worse for background music at your Christmas parties than this happy little 50s tribute.
Words By: Nick A. Zaino III
[Rating: 3/5]