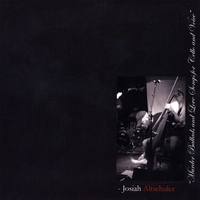 The cello isn't exactly the sort of instrument usually associated with Appalachian-style country or delta blues, but Josiah Altschuler isn't your typical cellist. A Harvard bioinformatics programmer by day, Altschuler strums, slaps and pops the cello as if it were a standard bass guitar to create a pitch black atmosphere that permeates every track of his precisely named Murder Ballads and Love Songs for Cello and Voice.
 
The debut EP offers a mix of seven classic blues and country covers with a few surprising contemporary songs thrown in. Altschuler's hauntingly bleak sound lends itself perfectly to the seven tracks, ranging from Dock Boggs to Les Claypool. However, the choice to do such a cover album is a dangerous gambit for Altschuler. Given the slew of string quartet tribute albums that flooded music stores a couple of years ago, there's a strong chance Murder Ballads could find itself mistaken for similar bargain bin fodder. But musically, he couldn't have made a better choice.
 
On the majority of the tracks Altschuler tends to impersonate whatever artist he's covering, and he can do a respectable Johnny Cash, but he flat out channels Skip James on "Crow Jane". If you didn't know he was a bioinformatics programmer, you could easily picture Altschuler in frayed overalls sitting on a kudzu choked porch. The most unexpected gem found here though is the closing track, Bob Marley's "One Cup of Coffee". This live recording has the acoustic quality of a bathroom, but the audio is still plenty clear to hear Altschuler's technical wizardry. The song starts off similar to the others on the disc but quickly culminates in a flurry of awe-inspiring bends and high-pitched pops that would be impressive on a regular bass, much less a cello.
 
This is the sort of debut that makes you genuinely excited to see what will come next. Altschuler is still at the beginning of his musical career, but if this EP is any indication, it's a very promising one.
Words By: David Feltman
[Rating: 4/5]