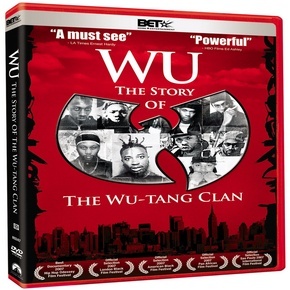 The definitive story of one of the most influential rap crews of all time, Wu: The Story of The Wu-Tang Clan comes to DVD on November 18th, 2008 from BET Home Entertainment and Paramount Home Entertainment.  
An authorized account of the spectacular rise of nine young men from obscurity to the pinnacle of recording industry success, Wu: The Story of   The Wu-Tang Clan sheds new light on their story with exclusive archival footage, interviews with the surviving members of the group and a wealth of material not available anywhere else.   A must-have DVD for every hip-hop and rap fan, Wu: The Story of The Wu-Tang Clan will be available for the suggested retail price of $22.99 US.
Simultaneously, Loud Records / Legacy Recordings, a division of Sony BMG Music Entertainment, is set to release the soundtrack companion CD, Wu: The Story of the Wu-Tang Clan.   The disc will feature such key Wu-Tang classics as "C.R.E.A.M." and "Protect Your Neck" alongside solo material from Raekwon, Ol' Dirty Bastard, Ghostface Killah, and Cappadonna.   The CD will be available at both physical and digital retail outlets on November 18, 2008.
In 1993, nine young men – Method Man, Ol' Dirty Bastard, Raekwon, RZA, GZA, Ghostface Killah, U-God, Inspectah Deck an Masta Killa — emerged from the Staten Island projects to form one of the most successful rap groups of all time: The Wu-Tang Clan.   For over a decade, they operated as a fluid alliance of exceptionally talented MCs, establishing themselves as one of the most significant musical collectives of the era, as well as individual artists who challenged convention with thought-provoking lyrics and beats. The Wu-Tang Clan went on to sell more than 20 million albums and become the original global hip hop franchise, lending their talent and name to music, comic books, clothes, online games and more.
The ambition, talent and innovative spirit that drove The Wu-Tang Clan's unique contributions to the hip hop scene also made its members multi-platinum-selling solo artists and record producers, Grammy winners, screenwriters, corporate spokespeople, entrepreneurs and motion picture composers. The group launched the acting careers of Method Man ("The Wire", Garden State, How High) and RZA (American Gangster) and brought attention to the controversial life and tragic death of Ol' Dirty Bastard.   Directed by Gerald Barclay, this awe-inspiring documentary also features industry notables: Bonz Malone, Popa Wu, Bobito Garcia, Ralph McDaniels, Gano Grills and 3rd Rail.