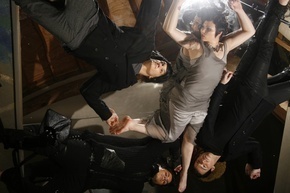 So, after a few weeks of tracking down, I finally managed to catch up with Shiny Toy Guns amidst a hectic tour schedule to get one of the first fresh interviews about their latest album, called Season of Poison, about to be released.
Whidden: What were your first influences?
STG: Melodic stuff.   Both Chad and I fondly lean towards anything melodic. Couple this with current music, which at the time was the 90's, and those were our first influences.   Everything from The Beach Boys to Jesus Jones to Pink Floyd to Blur.   Lots of Peter Gabriel.   Loads of Vangelis and Enigma.
Whidden: What are you trying to do with your latest album Season of Poison? It is obviously looking to be a concept, theatrical album, please expand?
STG: It is a concept record.   The first song goes to track 10 before stopping. SOP is an album reflecting the darker things in life and how truly beautiful they are in appearance.   Not to be completely upsetting however; the record is also loaded with things bright and harmless as well.
It's like this: take a beautiful spiral-banded supercell thunderstorm.   If you don't know what that is than google it; it basically looks like the "nothing" in the film "Neverending Story"-a rotating updraft .. dark and evil and twisting nearly 50,000 feet into the air.   You stare at this ominous wall of silent energy slowly moving across the sky at around 35 mph.   the kind of thing you see only in dreams or 40 million dollar films.     It's absolutely and truly amazing. Then suddenly you have a 2 X 4 impale your girlfriend at 205 miles an hour, plastering most of her vital organs against the wall of your apartment.
You didn't pay attention. You didn't heed a warning. You didn't listen because you think you know everything all ready, and now she is gone. You made a wrong choice, a wrong decision that affected your life for the rest of what you will remember.
See the most beautiful things in life are not what they appear all the time.   And things in life, like the weather, like earthquakes, like things controlled by this earth, are NOT, controlled by human beings. You are not smarter than the sky, you will be reminded of this.   We write music about this.
 
People live and die .. birth and death .. pain and fear turn to love and excitement.   And you only have a moment to understand and take this in before darkness comes, and you can't stop or control things. This is a Season of Poison, a musical reflection of severe lives vs. severe weather that constantly move out of control.
Whidden: What was it like being on the road as a now signed, established band, after working hard to release the We are Pilots 3 times?
STG: We slept a little better, but the work load triples. Sometimes to the point where we just collapse.   Resting is so important as is attention and affection.   We are removed from that on the road and it wears.   Costly plane tickets have to be arranged before we start getting upset because one shoelace is longer than the other.
Whidden: When did you know that Shiny Toy Guns was going to have to become a full time job?
STG: After I finished the first song on the demo. What if you just had your first baby and you didn't make the child a full time job?   It has been full time since it started shitting and throwing up on me.
Whidden: What do you have to say about you costumes and images? I am a personal fan of it, but I've read mixed reviews in that some people feel that the costumes and overly glitzy image are too much for the band and that there is not enough substance behind the image.
STG: I love our music, I think it has tangible substance behind image, but that's just my opinion. What we like to do live and what we like to do in photography and visual art we put just as much effort and creative energy as we do in song writing and production.
The 2 senses that are attracted to music are the ears and the eyes. I mean, have you ever had someone invite you to go "hear" a concert with you? We won't play for you in jeans and a t-shirt sitting on a barstool with a Minnesota Vikings baseball hat on. We will instead spend thousands upon thousands of dollars on technology and crew, makeup and costume so that you can truly "see" the music that you have been listening too in your car.
"Ricochet" Video:
Words By: Whidden Flores