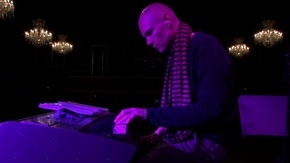 The Smashing Pumpkins will release "If All Goes Wrong," their first concert DVD on November 11th. This double DVD commemorative package celebrates the bands recent reunion and their extraordinary featuring a full concert and a revealing documentary.
The Smashing Pumpkins YouTube Channel:
Video Card 1
[youtube WRKPzAJYMCY nolink]
Video Card 2 (featuring Pete Townshend)
[youtube Bg5euLDH0Z4 nolink]
Video Card 3
[youtube SMKyoRsPL0s nolink]
Coming Home Media will release If All Goes Wrong, a double DVD commemorative package celebrating the recent reunion and extraordinary 20-year career of The Smashing Pumpkins, one of rock's defining and most acclaimed bands, on Nov. 11th.
Directed and produced by Jack Gulick (Bruce Springsteen, Metallica, Steve Miller Band, Godsmack) and Daniel E Catullo III (Steve Miller Band, Godsmack, Rush, Dave Matthews Band), the two DVD set contains the 105-minute documentary, also titled If All Goes Wrong, plus The Fillmore Residency, a full concert filmed in late July and early August of 2007 over five of the 11 sold-out nights at the famed Fillmore Auditorium in San Francisco, CA.
The concert disc was captured in 5.1 Surround Sound and state-of-the-art high definition from 12 cameras and features seven all new tracks not available anywhere else, along with new versions of fan favorites and a selection of Pumpkins rarities.  
From the opening note to the final chord, the documentary If All Goes Wrong showcases a band returning with an "enveloping epic force" (Los Angeles Times) as it traces The Smashing Pumpkins during their 19-show residency, which began with eight shows at Asheville, NC's Orange Peel in late June and continued through 11 sold-out nights at San Francisco's famed Fillmore Auditorium. Interviews with band members, fans, journalists and fellow musicians reveal the fears, excitement, determination, exhaustion and tension inherent in main singer-songwriter and lead guitarist Billy Corgan and his newly revitalized musical unit.