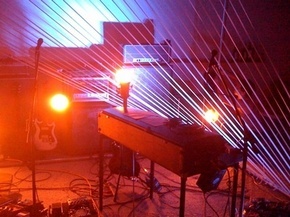 New Sights and Sounds: The Secret Machines bring contemporary set design on North American Fall Tour!
The Secret Machines' brand-new record, Secret Machines, is out now  on their own label, TSM Recordings. This is the trio's third full-length and first on TSM, and also marks the first in a series of strong initiatives that continue to define their status as cutting-edge, visionary artists.
A show at the 9:30 Club in DC this Thursday kicks off the Secret Machines' fall North American promo tour. Following in the tradition of their trademark staging on previous tours, it looks like concert-goers are in for a treat this time around, as well.
"Atomic Heels" MP3:
The band has just unveiled the minimalist approach behind their new set design, revealing a concept that is more theatrical in nature than in the intense rock lighting effects they are known for. Brandon Curtis took an unconventional approach when he enlisted the conceptual talents of one of Europe's premiere award-winning set designers, Es Devlin, the same woman who hip-hop mogul Kanye West turned to for his space-themed Touch the Sky tour last year. Ms. Devlin, who also designed the set and costumes for Philip Glass's chamber opera Orphee as well as Sally Potter's extravagant film production of Carmen, was kind enough to give us her first-hand perspective on why she decided to collaborate with the Secret Machines, and how she envisions this stage set enhancing their performance.
The Secret Machines Full Fall North American Tour
Oct 16   Washington, DC @ 9:30 Club &
Oct 17   Philadelphia, PA @ Trocadero &
Oct 18   New York, NY @ Webster Hall &
Oct 20   Cambridge, MA @ Middle East &
Oct 21   Montreal, QC @ Les Saints &
Oct 22   Toronto, ON @ Lee's Palace &                                                                        
Oct 24   Chicago, IL @ Metro*
Oct 25   Madison, WI @ Majestic Theatre*
Oct 27   Denver, CO @ Bluebird Theatre*
Oct 28   Aspen, CO @ Belly Up*
Oct 30   Los Angeles, CA @ Key Club*
Nov 01   San Diego, CA @ Belly Up*
Nov 03   San Francisco, CA @ The Independent*
Nov 05   Portland, OR @ Berbati's Pan*
Nov 06   Seattle, WA @ Neumos*
Nov 07   Vancouver, BC @ Richards on Richards*
Nov 09   Calgary, AB @ SAIT Polytechnic+
Nov 10   Saskatoon, SK @ Louis' Pub+
Nov 11   Winnipeg, MB @ Pyramid Cabaret+
Nov 14   London, ON @ Call the Office+
Nov 15   Ottawa, ON @ Babylon+
& w/TK Webb
*w/the Dears
+w/Small Sins