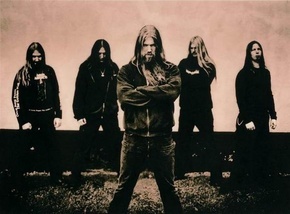 Swedish metal powerhouse AMON AMARTH recently kicked off a headlining tour in support of their long-awaited new studio album, Twilight of the Thunder God   which came out September 30 on Metal Blade.  
The 3 week trek features support by Helsinki folk-metal act Ensiferum, Austrian blackened death metal band Belphegor and Tampa, Florida melodic death metal troupe The Absence.
Twilight of the Thunder God was recorded at Fascination Street Studio in Örebro, Sweden and features several high-profile guest appearances that include Entombed singer L.G. Petrov, Children of Bodom guitarist Roope Latvala and Finnish cello metal band Apocalyptica.   Showcasing 10 new tracks of menacing battle metal replete with swarming riffs and searing percussion that provides a monolithic backdrop for vocalist Johan Hegg's wracked howls and lyrics rife with Nordic mythology, AMON AMARTH seamlessly combines the key attributes of death, black and power metal while pushing the band's "fantasy-fueled sonic mayhem" to new heights on Twilight of the Thunder God.
Check out AMON AMARTH's brand new video for "Twilight of the Thunder God":
[myspace 42875280 nolink]
AMON AMARTH tour dates:
North American Twilight of the Thunder God Tour (w/ support from Ensiferum, Belphegor and The Absence)
 
October 15   Toronto, ON @ Phoenix Concert Theatre All ages / $28 ADV / $35 DOS
October 16   Montreal, QC @ Le Medley All ages / $29 ADV / $34.50 DOS
October 17   Quebec City, QC @ Theatre Imperial All ages / $30 ADV / $35 DOS
October 18   Worcester, MA @ The Palladium All ages / $20 ADV / $25 DOS
October 19   Philadelphia, PA @ Trocadero All ages / $21 ADV / $23 DOS
October 20   New York, NY @ The Fillmore @ Irving Plaza 16+ / $25 ADV / $25 DOS
October 21   West Springfield, VA @ Jaxx All ages / $25 ADV / $27 DOS