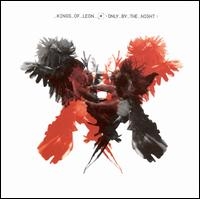 Why in the world has the Tennessee rock band Kings of Leon enjoyed a superstar status in the U.K. and only a cult following in the U.S.?
The question is a real good one to ask because the Kings of Leon have released two fine, critically praised albums, Aha Shake Heartbreak in 2004 and Because of the Times in 2007, and yet the releases were mostly ignored by the American public while being embraced by numerous people in other countries. (The latter album hit #1 in Britain, Ireland, and New Zealand.)
As for the answer to that question, you will find a bunch of diverse people coming up with different theories. What is more interesting though is that the Southern rock group itself–which consists of brothers Caleb, Nathan, and Jared Followill and their cousin Matthew Followill–must have been asking themselves the same question because the Kings' latest CD Only by the Night is their most accessible to date.
In fact, Only by the Night is the Kings' catchiest record as it is powered by guitar-laden hooks and gigantic choruses that will sound great in an arena setting. A perfect example of this is the first single off the record, "Sex on Fire," with its chugging guitars and Caleb Followill's passionate singing.
Another great song of note on the CD is "Manhattan" because it shows off the band's versatility. Matthew Followill impresses plenty on the track with his subtle guitar playing and the track's slower tempo shows the Followills are as adept at writing pop songs as flat-out rockers.
With those two songs being possible hits for the band, there will probably be some backlash from people–particularly from American fans who followed the band from the beginning–who are bound to start using the words "Sell Out" concerning this album.
However, Only by the Night does have some musically intriguing surprises to keep those critics at bay. The opening track "Closer" can't really be considered commercial with its spooky guitars but it still sparkles while "Crawl" is a fantastic rocker that is as adventurous as the stuff U2 did in the early 90s.
If there is a major complaint about this release to be had, it is that the best songs are at the beginning. Some of the later tracks like "Revelry" and "17" are not as interesting as the ones that preceded them.
In the end though, this release is most relevant because of Caleb Followill who showcases his fine singing on every track. Unlike his vocals on previous releases, every word here is decipherable and he makes his case as one of the better rock singers out today.
He is so good that he even makes some of the more formulaic songs such as the power ballad "Use Somebody" interesting and his talent just might make his band as popular here in the States as overseas very soon.
Author — Todd Sikorski
[Rating: 3.5/5]