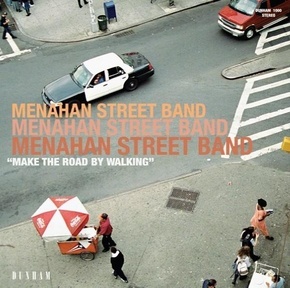 Menahan Street Band's debut full-length, Make the Road by Walking, is coming out TOMORROW, October 14, on Daptone/Dunham Records.
Menahan Street Band, headed by the Dap-Kings/Budos Band's own Tommy Brenneck, already gave the world "Make the Road by Walking," the 45 of which was picked up by some producers who happened to work for, um…Jay-Z.
Now, as autumn begins to slowly uncurl itself across the continent, the band has unveiled the second single off the upcoming LP (Make the Road by Walking, out on Daptone/Dunham on October 14), "Tired of Fighting," courtesy of an exclusive stream/premiere with the good folks over at The Fader.
If you happen to be in New York, Menahan Street Band will be throwing a record-release party at Southpaw this Friday, October 17. Phenomenal Handclap Band will also be performing, and there'll be free beer, courtesy of Heineken, from 8 until 9pm.
Jay-Z sampled the title track for his 2007 hit "Roc Boys":
"Tired of Fighting" MP3:
"Make the Road by Walking" MP3: