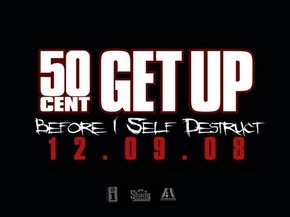 50 Cent exploded onto the music scene with his blockbuster debut Get Rich Or Die Tryin'.   Now he's set to deliver his fourth major label album, Before I Self Destruct (Shady/Aftermath/Interscope), on December 9, 2008.  
For the explosive Before I Self Destruct, 50 Cent returned to working closely with Dr. Dre and Eminem as he did on his first album.   But Before I Self Destruct is more than an album.   The package also includes a DVD with an original, gritty, feature-length movie he wrote, directed and starred in.   50 Cent proves with Before I Self Destruct that no one on the hip-hop scene is more aggressive about putting the street on stage.
Before I Self Destruct Trailer by 50 Cent:
With Dr. Dre and Eminem each producing and guesting on tracks, and led by the club-friendly first single, "Get Up," produced by Scott Storch, Before I Self Destruct is darker and harder than last year's Curtis.   50 Cent wrote much of the album while he, as Curtis Jackson, was also penning the 90-minute film of the same name that would be his directorial debut.
The film Before I Self Destruct is a coming of age story about an inner city youth raised by a hardworking single mother.   When his dream of becoming a basketball player fails to materialize, he finds himself employed in a supermarket.   After his mother is tragically gunned down, Clarence (played by Jackson) is consumed by revenge and takes up a life of crime in order to support his younger brother.