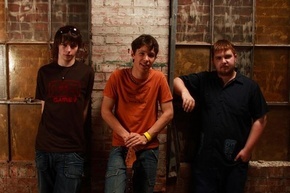 It is no wonder that Gov't Mule picked Back Door Slam as part of their upcoming tour, starting on Halloween night at the Orpheum Theatre in Boston, MA. These young blues rockers from the Isle of Man, a tiny island between England and Ireland, have the chops to hold a stage with the likes of Warren Haynes and his fellow Southern rock veterans.
"I'm a big Warren Haynes fan," says Back Door Slam's guitarist and the band's founder, Davy Knowles. "It's going to be cool watching him every night."  
 
From their debut album, Roll Away, Back Door Slam demonstrates a maturity that Haynes and his bandmates are recognizing. Yet, this young band has only been on the music scene since 2006, and their meteoric rise has been jaw dropping, not only to the music world but to the band members themselves. "We got very, very lucky," says Knowles. "It was kind of all chance."
 
Back Door Slam's roots begin with a seminal moment in Knowles' childhood. " I always really loved music. I always had a lot of older stuff about the house," he says. "My sister used to play Howlin' Wolf, Muddy Waters, and Chuck Berry records. I was hearing that sort of stuff when I was six or seven. Then when my dad played me a Dire Straits song when I was 11, that was when guitar playing really got to me.   From then on, I kind of jammed with whoever I could and made friends with whoever was better than me."
 
He played his dad's guitar for awhile, then one Christmas, he got a three-quarter Spanish guitar. "That was my first guitar. I had to prove that I wanted to play the guitar. I had to play that for a year before my dad found me an electric guitar," Knowles remembers.
 
Yet, Knowles didn't learn to play from formal lessons. "I never really played scales or practiced like that," he remembers.   "I always improvised and played along with CDs. I think that stood me well. You learn a lot about melody and constructing song from guitar solos. You have to make adjustments to make it interesting. It can't just be a stream of notes."
 
Much of what Knowles was playing was blues and classic rock. "I've been in and out of bands since I was 12 or 13 years old," he says. He played in a lot of weekend-warrior bands, comprised of middle-aged players who were in it for the fun of it, playing local gigs. "I played with a band called Roadhouse. We just did straight blues. It was a really great education," he says. "It was really when I was 16 or so that I wanted to start my own band and do my own thing. That ended up being Back Door Slam."
 
Knowles tapped bassist Adam Jones and drummer Ross Doyle to complete his rock/blues trio. As the band became more cohesive, Knowles started singing and writing songs. "I didn't start singing until Back Door Slam was formed," Knowles says. "I made up riffs. I made up bits of songs, but I never really got into songwriting until then."
 
What emerged was a rootsy blues delivery without the growl of Jonny Lang but with a depth and sensitivity that allowed Knowles to offer a wider range of vocal material. "Outside Woman Blues," "Gotta Leave," and "Takes A Real Man" cuts from their new album, are pure, soulful blues. "Come Home," "Heavy on My Mind," and "Too Late" are Southern rock at its best with an Isle of Man twist. But there are other songs. "Too Good For Me" is a tender, folk rock tune, and "Stay" is a plaintive ballad. "It'll All Come Round" is more pop/rock but very freshly done.
 
Back Door Slam hasn't relied on flash to make their musical mark. Their songs combine complex electric guitar riffs and standard bass/drum backup. Then, they can do an intro or an entire song like "Roll Away" with intricate acoustic guitar finger work with hand percussion and haunting vocal harmonies.  
 
In two short years, Back Door Slam has been skyrocketed onto the international stage. Knowles is quick to point out that this stage in the band's musical career has been due to serendipity.   "The Isle of Man where we come from is really tiny. We gigged around it. We gigged it to death," he says.   Though they are aren't far from Liverpool, the launchpad of a lot of other British rockers, Back Door Slam never played much in England.
 
So, how did Gov't Mule and the rest of the world find these guys? "There was a Sound-Alike/Look-Alike competition show on the Isle of Man," Knowles explained. "The prize was half time in a recording studio, and Eva Cassidy won. Blix Street Records put out Eva's stuff. They heard us because we were recording in the same studio. That's how we ended up getting signed with them.We got really lucky and came straight over here as soon as we got the record deal."
 
The band came for SXSW in Texas in 2007 and did a long US tour before going into the studio to record Roll Away.   They have been in the US touring all through the West Coast and Colorado for the past four months. They will hit venues throughout the Heartland during the tour next month, playing in places like the Pantages Theatre in Minneapolis, The Rave in Milwaukee,   the Madison Theatre in Covington, KY, ending at the Fillmore in San Francisco.   "In a year and a half, we'll have done 310 gigs at the end of the Gov't Mule tour," Knowles says.
 
But Back Door Slam will only pause briefly after their grueling schedule. "We're going to have a little time off, trying to get some head space for getting the second album together."
 
Catch Back Door Slam with Gov't Mule next month. And, be ready for another great album coming from them next year.
Words by: Janie Franz
Photo By: Bryan Anderson