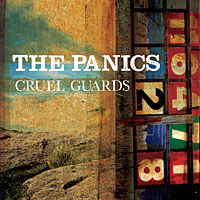 It has been a while since a new pop-rock band from Australia has made a major impact in the United States. Sure, there have been some recent successes from Aussie alternative and modern rock acts such as Wolfmother, Jet, and the Vines.
 
However, it is still hard to name a band from Down Under that has embraced pop melodies and orchestral flourishes successfully and has crossed over into the consciousness of American music fans. (That is, besides Silverchair, which has abandoned its grungy past for a more adult sound over the past five years.)
Well, all that might change as The Panics, a five-piece outfit originally formed in Perth, have just released an impressive CD called Cruel Guards in the States. Already out for a full year in Australia and nominated for numerous Aria Awards (that country's equivalent to the Grammys), Cruel Guards features ten beautifully crafted songs that are better than most anything being played on adult contemporary radio stations today.
Things get off to a great start on the recording with the lush opening track, "Get Us Home." After a short drum roll fades in and lulls the listener in, a grand orchestral arrangement blares out and then subtly blends in with some understated electric and acoustic guitars and vocalist Jae Laffer's melodic singing.
Later on, the ultra-catchy "Don't Fight It" surprises with an organ solo before a hip-hop inspired drum loop fades in and continues along with splashes of piano and horns sprinkled throughout the song. The title track is another standout with its slower tempo, haunting strings, and harmonica solo.
Lyrically, Cruel Guards also impresses as Laffer's words are direct and universal. In interviews, the singer has mentioned that plenty of what he wrote about here describes living in Australia. However, any listener will be able to relate to tracks like "Ruins" and "Life Without" which deal with failed relationships in a reflective manner.    
 
Despite all these highs, whether or not The Panics will resonate with the average American listener is unknown. There are hardly any loud guitar solos or screeching vocals on Cruel Guards to appeal to the modern rock crowd. Also, the big, sweeping pop sound harkens back to another era when the Beatles and Phil Spector ruled the world so Top 40 radio will probably ignore the band.
Nevertheless, The Panics have crafted some fantastic music here and any serious music fan will have no problem enjoying Cruel Guards.
Words By: Todd Sikorski
[Rating: 4/5]