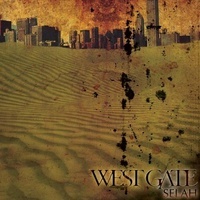 Rock & Roll reborn, in New Jersey…   Bon Jovi and The Boss better make room for some real rock.   West Gate recently released their indie debut EP 'Selah'.  
Produced by Grammy Award ® winner John Seymour, 'Selah' is a solid first release from West Gate in just under two years as a band.   No gimmicks and no screaming… it is very refreshing to hear a band concentrate so much on singing.   Mixing heavy music, intense guitar solos, and melodic vocals it appears 'Selah' marks the first of many releases to come from West Gate.   Working their way up through the northeastern United States, West Gate has rocked such tri-state staples as NYC's Knitting Factory, NJ's Stone Pony, and more.   The band has earned an opening slot for national act, Flaw, over at Dexter's in Riverdale, NJ; as well as an opening slot for Powerman 5000 at the Starland Ballroom in NJ January 31, 2009.
The whole EP has that hard edge, yet commercially viable feel to it.   Especially the song 'Escape Artist':   heavy music, shredding guitar work, and just the right vocals to carry the song onto the radio.   K-Rock[Q] NY, LA, Rock 105.3 San Diego…I predict that the next release from West Gate will be good enough to get spun on every one of those stations and more.     'Selah' may prove to be a bit too raw for the radio…but not by much.   These guys are onto something.
So rock fans, support the band, get yourself a copy of 'Selah', and keep your eye on West Gate as we watch a new generation of heavy rock rise.
Reviewed by: Gary Jacobs
[Rating: 4/5]