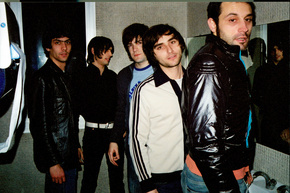 The HushPuppies' track "You're Gonna Say Yeah!" is only one of a few indie tracks that is in the brand new Guitar Hero (IV) World Tour video game.
You can find "You're Gonna Say Yeah!" in a play list including music by Coldplay, Foo Fighters, Interpol, Metallica, Modest Mouse, REM, and Smashing Pumpkins. Millions of gamers will be hearing this song while playing along. The song will be included in the national campaign spots for the game.
These young rockers from Perpignan, France steeped in the music of their relatives' record collections:   The Kinks, The Who, Small Faces, and Led Zeppelin, then added the best bass player in Bordeaux, and honed their chops in Paris listening to Queens of the Stone Age,   Electrelane, Grandaddy, and The Hives among others. Perhaps this explains their impeccable English   vocals.
Hushpuppies' album "Silence is Golden" will be in stores November 4.
Watch the video for "You're Gonna Say Yeah!":
[youtube Y0RSpwLVVY0 nolink]