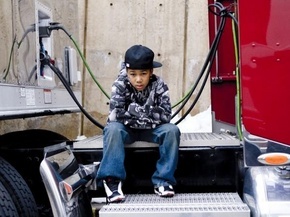 Who is Scooter Smiff? Ask Interscope Records, who is proud to bring you the a track from his upcoming album Head Of My Class featuring Chris Brown.
From performing at the Grammy Awards to his role on TV's Lost and his first dramatic feature with John Malkovich, "this Scooter Smiff is built for speed and skill."
Baltimore-born and bred Scooter Smiff, 13, might do it all–dance, rap, write, choreograph and act–but he says that he's just a "regular kid." But "regular" he is not; his first taste of the big time came at age five (5) when he performed on Showtime at the Apollo and where he met B2K.     As J-Boog from the group watched Scooter perform he was amazed and when the time was right he sent for an eight (8) year-old Scooter to record in Los Angeles.   Scooter's career began and his entire family moved to Los Angeles six (6) months later.
But the big turning point in his career came when Scooter Smiff met R&B superstar Chris Brown.   "I met Chris through my friend Miles who went to the Debbie Allen Dance Academy with me.   Miles was already a dancer for Chris when Chris was looking for a 2nd kid for his Grammy performance, he introduced us and the he rest is history," states the smiling teen-ager.      
"Head Of My Class" feat. Chris Brown audio stream:
"Who is Scooter Smiff?" YouTube video stream: