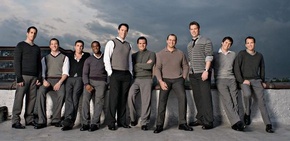 ATCO/Atlantic Records has announced the signing of acclaimed a cappella group Straight No Chaser.
The Indiana University-born, ten-man ensemble — which caused a YouTube sensation with their unique take on "The 12 Days of Christmas" — will release their debut album, entitled "HOLIDAY SPIRITS," on October 28th.
The album's forthcoming release is heralded by a front page story in Sunday's New York Times Arts & Leisure section (10/5 edition), entitled "A Cappella Dreaming," which notes that "This may be the year's most unlikely major-label story."
"The 12 Days Of Christmas"
[youtube 2Fe11OlMiz8 nolink]
"I think their potential is unlimited," said Atlantic Chairman/CEO Craig Kallman, who personally signed Straight No Chaser.   "The incredible combination of their amazing voices, great material, fantastic sense of humor, and huge charisma sets them completely apart from what anyone usually thinks of when they think 'a cappella group.'   They're just a great group, period.   I believe they have a terrific future ahead of them in the musical mainstream."
Straight No Chaser will celebrate the release of "HOLIDAY SPIRITS" with a special Homecoming Show at their alma mater, Indiana University.   Tickets to the concert — set for October 25th at the Indiana University Auditorium — are priced at $16.50, or $22.50 with a copy of "HOLIDAY SPIRITS."   For more information, please visit www.iuauditorium.com.