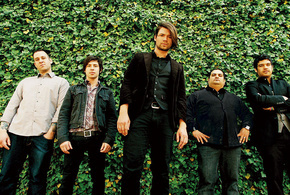 Taking Back Sunday have entered a New York City studio with producer David Kahne to record the follow-up to the New York-based melodic hardcore quintet's previous album, the gold-certified Louder Now. Kahne production credits include Paul McCartney, The Strokes, and Sublime. The as-yet-untitled album will be released in 2009.
The new album, which the band began writing while shuttling between Texas and New York, is the first to be recorded with new band member Matt Fazzi, who became Taking Back Sunday's full-time guitarist and second vocalist in May 2008 following the departure of Fred Mascherino.
"Matt has brought new life to Taking Back Sunday, a theme ever-present in the material we have been working on for the past few months," says vocalist Adam Lazzara. "He continues to give us a new perspective on how we each write and listen to music, pushing both himself and us to cross new borders and venture into new territories with our music. He is the push we needed to break through some walls this time around."
Adds bassist Matt Rubano: "On this record, we challenged ourselves to write the best songs we possibly could while trying new things in an effort to push the envelope in terms of what it means to sound like Taking Back Sunday. I think this record has an honesty and an urgency that we haven't achieved before. The addition of Matt also helped propel us into new areas of guitar work and vocal harmonies with confidence and excitement."
Released by Warner Bros. Records in April 2006, Louder Now skyrocketed to No. 2 on Billboard's Top 200 chart, scanning more than 157,000 copies. The band spent the next year two years on the road, including launching multiple sold-out U.S. headlining arena tours, as well as a stint on Linkin Park's 2007 Projekt Revolution tour. They also appeared at the Live Earth concert in July 2007, supported My Chemical Romance at Madison Square Garden in May 2008, and performed at the U.K.'s annual Reading and Leeds festival in August 2008.
Photo Credit: Ryan Russell