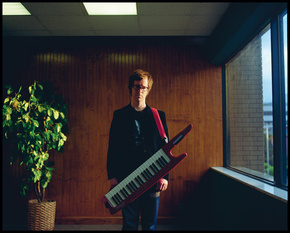 Ben Folds and iTunes have teamed up for an innovative program that includes his new album, current tour, live recordings, even an exclusive live album – for a new way music is recorded and distributed to music fans worldwide.  
Ben Folds fans have been able to pre-order his latest album, WAY TO NORMAL, in conjunction with choice seats to his current tour through an iTunes partnership with Ticketmaster. Upon doing so they immediately received two advance tracks from the album prior to its official release.
During Folds' current U.S. tour, iTunes is introducing a new program called "The Sounds of Last Night…This Morning," for which one live track is being recorded in each of 10 cities and made available the next day exclusively on the iTunes Store.   Tracks are recorded to a Mac, previewed on an iPod, original cover art is made by Folds with Apple's Photo Booth application and sent to iTunes for sale the next day.   Following the conclusion of the tour the tracks will be compiled for an exclusive iTunes live album.   Fans may purchase the album at a reduced price based on the songs they've already bought via iTunes' Complete My Album feature.
Way to Normal was mostly recorded at Folds' studio in Nashville and produced by Dennis Herring (Elvis Costello, Modest Mouse, The Hives). With Folds on vocals and piano, the album also features long-time bassist Jared Reynolds and drummer Sam Smith as well as a guest vocal from indie pop heroine Regina Spektor on the album's first single, "You Don't Know Me." Folds and band with special guest Spektor appeared on Late Night with Conan O'Brien last night and will appear on Jimmy Kimmel Live on November 13.