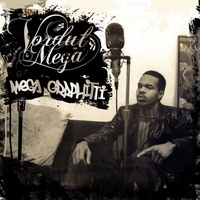 Coming straight from the underground world of hip-hop brings you an artist born and raised in Harlem, NY known as Vordul Mega.   Harlem is the basis for Mega's lyrics as he talks about the problems and struggles growing up in the concrete jungle.   Vordul really seems to pour his heart and soul out on this record through the inspiration from what he's lived, seen and done.
Mega is also part of Cannibal Ox, a rap group considered to be highly regarded in the hip-hop game.   Vordul won't fool you though because although he has a new and exciting solo album out, he's not one to steel the show.   But… Megagraphitti needed to be done for Vordul Mega's sake because he had many of his own personal convictions on life to get across.   Mega needed to lay some tracks down based solely on his thoughts and recollections, so he would feel a sense of satisfaction.
The overall feel on this album is definitely Street, but with a smoothness that's not so direct and in-your-face.   The sound is Real, but playing as an off-beat record not following rhythms is the deal.   Rhymin' away from the beat is the effect and you get a sense of an all-over-the-place appeal.   In the words of Eminem, "Crazy Insane or Insane Crazy" sums up the noise on "Broken Halo" and also the overall listen of Megagraphitti.   Insane crazy or crazy insane maybe not such a bad thing though in this case for Vordul Mega venturing out into the land of originality and truth.
On track 10, "Beautiful" was perfectly titled giving shot outs to the many women in Vordul's life and in his thoughts.   Names such as Alicia Keys and Mary J. Blige are mentioned as respectful female artists in the music biz.   Then you hear Mega mention his moms and grandma, where he mentions her smilin' from heaven.   This was an extremely sentimental song on the album and a pleasant surprise on the album.   Much respect to women on this one with no references of bitch or biotch, which was great to hear.  
For more info, SKOPE out www.myspace.com/vordulmega and www.backwoodzstudioz.com.
Words By Jimmy Rae
[Rating: 2.5/5]