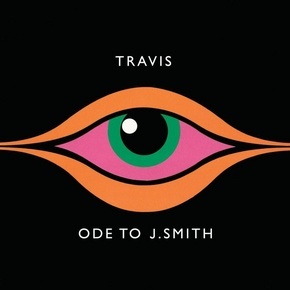 On November 4th, 2008, Travis will release their sixth album Ode to J Smith on their own recently reignited label, Red Telephone Box which will be distributed by Fontana International in the United States.
Red Telephone Box was first created in 1996 when Travis frontman, Fran Healy borrowed £600 from his mum to pay for the recording of Travis' debut single.   That track, the rousingly self-descriptive 'All I Wanna Do Is Rock,' was released on the then spanking new, band-owned label with a sleeve designed by Healy.
"Something Anything" Windows Media Stream:
Fast forward twelve years — during which time they have sold ten million albums, scored numerous accolades and headlined festivals all over the world — and Travis are back at the helm of Red Telephone Box for the release of Ode To J Smith.
Ode to J Smith is their first album to be written on electric guitar since Good Feeling and places lead guitarist Andy Dunlop firmly center stage, recalling those early recordings.   In short it's their loudest, edgiest and most arresting record since their debut.   The album was written in 5 weeks and recorded in just 14 days at Rak Studios in London.   Ode to J Smith was produced by Emery Dobyns (Antony & The Johnsons, Patti Smith, Battles) and mixed at Electric Lady Studios in New York.     It's the sound of a band re-born, re-inspired and re-energized.  
The first single, 'Something Anything' goes to U.S. radio on October 6.       Landing someplace between the breakthrough stomp of 'Good Feeling' and garage band overdrive of 'All I Wanna Do Is Rock,' the tough beat led grooves and guitar licks of 'Something Anything' are indicative of Travis' forthcoming album Ode To J Smith — the first to be written on electric guitar since their debut.
Track Listing
01) If There's a Rocket, Tie Me To It
02) Crack the Shutters
03) Take Back the City
04) Lifeboats
05) The Golden Floor
06) Please Just Take These Photos From My Hands
07) Set Down Your Glass
08) The Planets Bend Between Us
09) Engines
10) Disaster Button
11) The Lightening Strike:
– i) What if the Storm Ends?
– ii) Sunlight Through the Flags
– iii) Daybreak