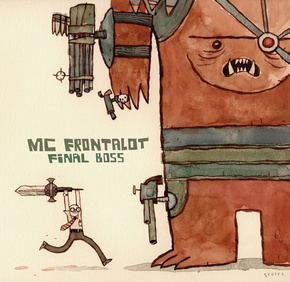 The Godfather of Nerdcore Rap is at it again, bringing his parsecs of knowledge to your cochlea with his newest album, Final Boss.  
Featuring guest spots from Glen Phillips (Toad the Wet Sprocket), Jonathan Coulton and Wil Wheaton, Final Boss is unabashedly geek-tastic.   MC Frontalot holds forth on topics ranging from cryptozoology ("Scare Goat") to improper use of punctuation ("Tongue-Clucking Grammarian") to a new dance based on a grand-dame ("Wallflowers").   The album takes its title from Front's track of the same name, featured in the video game "On the Rainslick Precipice of Darkness" from the makers of the popular webcomic, Penny Arcade.
MC Frontalot "Wallflowers":
Front's chameleon-like adaptability is on full display with the release of Final Boss.   Tongue-twisting lyrics lie over swathes of eclectic samples and beats from a wide variety of genres.   A true master of ceremonies, Frontalot ushers us through his multi-faceted offerings with wit and aplomb.
TOUR DATES:
11/01:   Long Island, NY @ Crazy Donkey
11/03:   Boston, MA @ Harpers Ferry
11/04:   Teaneck, NJ @ Mexicali Live
11/05:   Albany, NY @ The Linda
11/13:   Boulder, CO @ Blacksheep
11/16:   Seattle, WA @ High Dive
11/19:   Oakland, CA @ The Uptown
11/21:   Bakersfield, CA @ Jerry's
11/23:   Las Vegas, NV @ Jillian's
11/28:   Austin, TX @ Flamingo Cantina
11/29:   Dallas, TX @ Double Wide
12/05:   Marrieta, GA @ Swayze's
12/07:   Charlotte, NC @ Milestone
12/09:   Vienna, VA @ Jammin Java
12/10:   Baltimore, MD @ Ottobar
12/11:   Doylestown, PA @ Siren Records
12/12:   Philadelphia, PA @ Khyber Upstairs
12/14:   Hoboken, NJ @ Maxwell's