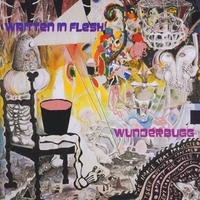 In theory, Wunderbugg is keyboard whiz Whidden Flores, Nick Evans, and Lorin Atzen. In practice, it's hard to tell what exactly the division of labor is on Written in Flesh, a pleasing but not terribly memorable mix of trance, rock, and electronica. The liner notes credit Flores with producing, writing, recording, and mixing chores, and mentions Evans and Scott Porter co-wrote "Naked," also giving Porter credit for "designing" the drums on "3 Molecules Away."
It would seem then, that Wunderbugg is Flores' baby, and it sounds more like a one-person project than a traditional band. Which isn't necessarily a drawback for Wunderbugg, any more than it's a drawback for Nine Inch Nails. It just sounds like one person's singular vision, and what you think of that one vision will determine whether you like the album.  
The production is definitely lush and layered — there are always two or three interlocking lines swelling in the background, with the pulsing programmed drums right up front and swirling synths soloing over the top. On "Unsaid," sampled church bells ring out over a background that changes like a mood ring, while a synth guitar (or maybe just a synth?) wails away in the mix. "Overdose No. 5" add a little dialogue to the mix, lifted from John Waters' "A Dirty Shame," to kick off an impossibly fast trance beat that will probably cause a few broken limbs and hips thrust out of joint if it's ever played on the dance floor.
Though Written In Flesh is well-played and produced, it feels like there's an element missing. This music needs to be heard in a club or along with some sort of visual element — it's good as part of an experience, but maybe not as the entire experience itself.
Words By: Nick A. Zaino III
[Rating: 3/5]