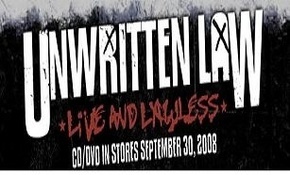 Live, Lawless, and back with a vengeance… Unwritten Law releases its first live album/DVD Tuesday September 30, 'Live & Lawless', on Suburban Noize Records.
SkopeTV and SkopeMag.com were lucky enough to catch up with these legendary rockers in Southern California for some home town shows. On Friday September 19th Unwritten Law was back at the Key Club on the Sunset Strip for another intense performance of many of their fan favorites. Check out this SkopeTV interview with Unwritten Law in the green room at the Key Club, with some clips of their performance mixed in [story continues below video]:
[youtube Y8TYr5rJYEg]
On September 6th, The Wave House in San Diego provided the perfect setting for an Unwritten Law homecoming after their latest trip to Australia:
With its standing wave machine, and plenty of general admission concert space, the Wave House has quickly established itself as a hot spot for quality concerts with some other fun things to do while you are waiting for the music. They have a full athletic club, restaurant & bar, and just about everything you would need for a rocking night at the beach. The venue layout is epic, and the ocean breeze blowing right into the Wave House made this a flawless choice for a 'Live & Lawless', Unwritten Law return to the states.
Unwritten Law Pics From 9/6/08:
Situated in the sand at the oceanfront Belmont Amusement Park in the Mission Beach area of San Diego, Wave House concerts fill up fast, and the times are always fun. The timing for this show could not have been more perfect. SRH, The parent company of Suburban Noize Records, had their extreme sports industry convention [ASR Trade Show] after party with their recent roster addition Unwritten Law ready to rock the night away. Reggae/Dub sensation OPM got the crowd moving to open the night. OPM is also on Suburban Noize Records. With the crowd near max capacity, it appears Unwritten Law is poised to jump back into the rock scene with full force. The vibe was so friendly; Scott Russo even brought his young son on stage to rock with the band for a minute.
'Kid-Russo' was the exception though. The concert was 21 and up for general admission, the rest of Belmont Park was still open to people of all ages…
After a roller coaster ride of lineup and label changes, Skope can tell the fans looking for reassurance on the band staying together that Scott Russo was adamant about drummer Dylan Howard being a part of Unwritten Law. "No more pictures of just the three of us"… "Dylan is a great drummer…and a great guy"…"he's a part of this band". It's pretty easy to see in the video above that they are getting along very well. Rock fans everywhere should be fired up for the addition of Live and Lawless to their collection, and it's a great way to hold you over until the next studio release from this relentless rock icon in early '09. Make sure you check out the video at the top of this report for more details on the next studio album from Unwritten Law.
Pictures by: Gary Jacobs and Jennifer Ridihalgh