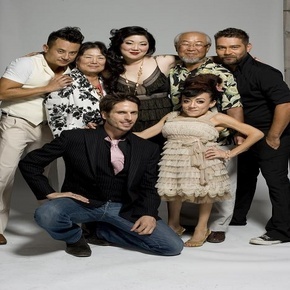 It's not everyday that I get to interview a world famous comedian so when Shaun Cairo in NYC got me the hook up I had to jump on it. Since 1994 Margaret Cho has been making people laugh from coast to coast. She now has a new show on Vh1 and a slew of tour dates. Margaret took the time to chat with Stoli about the election, Biggie Smalls, touring, her sex life, music, and much more. Be ready to laugh!
Stoli: How did growing up in the seventies help to shape you as a comedian today?
MC: I think the 70s made me more cynical. It was a crazy political time in san francisco so it made me political as well.
Stoli: I love your album, The Notorious C.H.O, were you a fan of The Notorious Big and will you go see his autobiographical movie upon release?
MC: Yes I loved biggie and can't wait for the movie.
Stoli: As an incredibly funny comedian, have you ever made fun of soemone and then felt bad about it later on?
MC: No cuz I don't do anything out of meanness. I only make fun of those who deserve it.
Stoli: Your touring schedule is no different from a major band, what helps keep your sense of humor amidst all that travel?
MC: Weed. Just kidding! But that is what most artists do, I've found.
Stoli: At what point in your like did you realize that your act was catching on and you would never work a 9-5 again?
MC: I never did a 9 to 5!
Stoli: What elements of your life would you say offers the most comedic humor for your stand up?
MC: My sex life! Which is crazy! Always has been.
Stoli: Your new show, "The Cho Show" is hilarious. Are you having the same issues with Vh1 that Dave Chappelle had with Comedy Central?
MC: I felt bad becuz dave chappelle is such a genius and I miss his show. But I get exactly why he walked away from all that money and it made me respect him more. I don't think I could ever be that principled cuz I love money!
Vh1 has been great to us though. We haven't run into the same problems.
The Cho Show Details:
Stoli: What music do you listen to the most and what song gets you pumped before show?
MC: I like everything from hip hop to world music to heavy metal to country. But I don't listen to it before shows cuz I'm usually eating.
Stoli: Has reality TV totally killed the sitcom and do you think that is a good or bad thing?
MC: I think sitcoms are  changing and reality is the future. That and drama are what I love.
Stoli: With the election coming up what issues are most important to you?
MC: Gay marriage. Abortion. Health care. Our relationship with the rest of the world.
Stoli: If you were to offer advice to others who look up to your sucess what would that be?
MC: Don't give up!
Stoli: Thank you Margaret, you are awesome!
Photo Courtesy: VH1