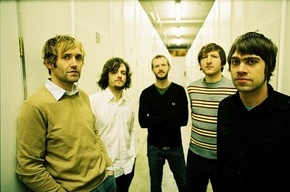 Minus The Bear is excited to announce the release of ACOUSTICS, an exclusive seven track EP available this fall.
The self-released EP via Tigre Blanco Records will be available in two formats and feature newly recorded acoustic versions of fan favorites from the Seattle quintet's prolific career and one new track entitled "Guns & Ammo."
Streams available for preview on Amazon:
Beginning October 7th, ACOUSTICS will be sold digitally via online outlets such as iTunes, Amazon and Emusic.   Physical copies of the EP will be sold exclusively on the bands headlining tour beginning in Spokane, WA on October 8th.
TOUR DATES:
October 8th                         Service Station                                             Spokane, WA
October 9th                         The Other Side                                             Missoula, MT
October 10th                     American Legion Hall                         Casper, WY
October 11th                     Gothic Theatre                                               Englewood, CO
October 12th                     Slowdown                                                             Omaha, NE
October 13th                     The Picador                                                       Iowa City, IA
October 15th                     Varsity Theatre                                             Minneapolis, MN
October 16th                     Turner Hall Ballroom                           Milwaukee, WI
October 17th                     Vic Theatre                                                         Chicago, IL
October 18th                     Newport Music Hall                               Columbus, OH
October 19th                     The Majestic                                                     Detroit, MI
October 20th                     Grog Shop                                                           Cleveland, OH
October 21st                     Wilbur Theatre                                               Boston, MA
October 22nd                   9:30 Club                                                               Washington, DC
October 23rd                     TLA                                                                                 Philadelphia, PA
October 24th                     Lupo's Heartbreak Hotel                 Providence, RI
October 25th                     Webster Hall                                                     New York, NY
October 26th                     Starland Ballroom                                     Sayreville, NJ
October 28th                     The National                                                     Richmond, VA
October 29th                     Lincoln Theatre                                             Raleigh, NC
October 30th                     Orange Peel                                                       Asheville, NC
October 31st                     Bijou Theatre                                                     Knoxville, TN
November 1st                 Variety Playhouse                                       Atlanta, GA
November 2nd               Rion Ballroom                                                   Gainesville, FL
November 3rd                 Revolution                                                             Fort Lauderdale, FL
November 4th                 House of Blues                                               Lake Buena Vista, FL
November 5th                 Freebird Live                                                     Jacksonville, FL
November 7th                 House of Blues                                               New Orleans, LA
November 8th                 House of Blues                                               Houston, TX
November 9th                 Waterloo Park                                                   Austin, TX **
November 10th             House of Blues                                               Dallas, TX
November 12th             Warehouse 21                                                 Santa Fe, NM
November 13th             The Marquee                                                     Tempe, AZ
November 14th             SOMA San Diego                                       San Diego, CA
November 15th             Glass House                                                       Pomona, CA
November 16th             Music Box @ Fonda                               Los Angeles, CA
November 18th             Empire Events Center                         Sacramento, CA
November 19th             Bimbo's 365 Club                                       San Francisco, CA
November 20th             Standford University                               Palo Alto, CA
November 21st             Lewis & Clark College                         Portland, OR
November 22nd           Showbox at the Market                     Seattle, WA
** Appearing at the Fun Fun Fun Fest
Photo by Ryan Russell