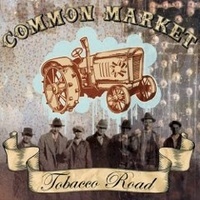 RA Scion and Sabzi [Blue Scholars] make up the hip-hop team of Common Market and seem to be bringing Knowledge Rap to the forefront.   First track is an actual church sermon where you hear a preacher speaking the words of God, but stressing the phrase "No Free Ride" toward the end.   This set the tone for the rest of the record because the expression was making a point to listeners that there is nothing free in this world.  
The gospel and churchy sound flowed right into the next song, "Trouble Is", which also features a similar style to the rapper, Twista.   During parts of the song, the speed-up tempo and revved up rap flow personifies Twista's Speedy Gonzales style to the T.   The mixing of two flavors:   God and church with the signature style of Twista's verbal artillery blended perfectly.
My favorite cut on Tobacco Road is "Gol' Dust" because the flow is something that I call flow-nasty because the beats were slammin' and the rhyme flow was on target.   It's one of those songs that you will catch yourself bobbin' your head to, can't help it!   You even get a patriotic feel from one of the sound bits on the track, which made it even more of a powerful 1, 2 punch.  
On "Slow Cure" and "Back Home (The Return)", I pick up on similar styles of the well-known rapper Common.   The lyrics are smart and the smooth grooves with a jazz-like appeal offer a sense of sophistication to them.   Common definitely likes to get a message across through his rhymes and I feel Common Market is following suite as well, especially on tracks four and five.  
Dominating drum beats are evident throughout the album and Common Market offers a similar style to that of The Roots.   Smooth as butter guitar riffs, jivin' piano sounds, cool DJ effects on the turntable and some very soulful melodies at times are major players in Tobacco Road.
The entire album offers a cooler than ice vibe along with some sound effects that were off the charts hot.   That is one aspect I picked up on when listening to this record was all the different sounds that RA Scion and Sabzi were using to bring together a great piece of work.   The sound was on, the lyrics were on base, the beats were bumpin', which all together was ever-flowing.   I would recommend this album to not just hip-hop fans, but fans of music, in general.   Tobacco Road sets the standard for originality and on the basis of Knowledge Rap.   You can groove and get down with your bad-self while at the same time learning something from the lyrics.  
Common Market is far from common in a market that needs more artists like them.   Keep the joints comin' Scion and Sabzi, the game needs you!   For more info, SKOPE out www.myspace.com/commonmarket.  
Words By: Jimmy Rae
[Rating: 5/5]