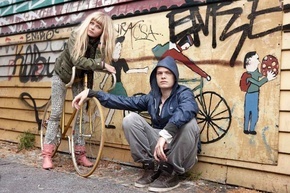 Formed less than a year ago, The Asteroids Galaxy Tour is heading for fame at a speed even they didn't expect.
The band, led by Lars Iversen and Mette Lindberg, has barely begun to share their music with anyone outside of their hometown of Copenhagen, and yet their first UK single, "The Sun Ain't Shining No More", is already tickling the ears of delighted radio programmers across the pond. Another track, "The Golden Age," has mysteriously popped up on the playlist for "Passport Approved," a syndicated radio show broadcasting weekly on Indie 103.1 (Los Angles), WXPN and other "tastemaker" stations around the country.
If that weren't enough, their song "Around the Bend" is currently being featured in ads for the new iPod Touch:
Stylistically The Asteroids Galaxy Tour is hard to pin down, except to say that they throw one hell of a party — which may be why those music-loving folks at Apple chose them to help sell what's being touted as "the funnest iPod ever."
Sun-drenched pop melodies collide with Technicolor dreams, anchored by the band's shared love of the classic soul stylings of Marvin, Stevie and Sly that can be heard in the horns snaking through "Around The Bend" as well as the slinky "The Sun Ain't Shining No More", for which they have made a spectacular video. Both of these tracks will be featured on a digital EP to be released October 21 in the United States, followed by debut full-length album in early 2009.